Swiss Railroads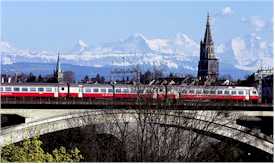 ABOVE: Train entering the Swiss capital of Bern (Switzerland Tourism).
Unlike some European countries, Switzerland has a plethora of railroads. Private enterprise is alive and well in the transportation sector, and the Swiss Federal Railways (SBB CFF FFS) are supplemented by small to medium-size railroads that cater to both locals and tourists.
This feature contains links to official and unofficial Web sites for Swiss standard-gauge, narrow-gauge, and mountain railroads. A number of the sites are in German, so you'll need to translate with AltaVista if the maps, timetables, and other information aren't clear to you.
Web links
Appenzeller Bahnen
Check the Fahrplan page for a map of this private railway's routes with an interactive timetable.
Berner-Oberland Bahn
The narrow-gauge BOB connects Interlaken to Grindelwald and Lauterbrunnen, the jumping-off points for the Wengernalp Railway and the Jungfraubahn (see below).
BLS Lötschberg Railway
The main BLS line from the Bernese Oberland resort of Spiez to Brig in Canton Wallis (Valais) offers great scenery and spectacular examples of railway engineering. The BLS also operates car trains from Kandersteg to Goppenstein.
Bremgarten-Dietikon-Bahn/Wohlen-Meisterschwanden-Bahn
The BD/WM is also known as the S-Bahn Zürich's S17 line. It serves the region to the west of Zürich, with connections to Zürich and Baden from Dietikon.
Brienz Rothorn-Bahn
Steam-driven cogwheel trains have been hauling tourists to a scenic overlook above Lake Brienz since 1892.
BVZ Zermatt-Bahn
The BVZ's trains connect Brig, Visp, and Zermatt, with a connection in Zürich to the Gornergrat-Bahn.
Jungfraubahnen
The cogwheel electric trains of Europe's highest railway have carried tourists to 11,336 feet (3,454 meters) since the line was completed in 1912. For more information, see our illustrated article.
Matterhorn Gotthard Bahn
The former Furka-Oberalp Bahn has narrow-gauge routes from Brig (Wallis) to Disentis (Graubünden). The Glacier Express and Bernina Express run on its tracks, and car trains save time for motorists at the Furka and Oberalp passes.
Montreux-Oberland Bernois Railway
The Panoramic Express is a popular trip on the route from Montreux to Gstaad, Zweisimmen, and Lenk. MOB's parent company operates two other railroads from Montreux and Vevey, including a steam train in summer.
Pilatus-Bahnen
Take the cogwheel railway to the summit, then return to lower elevations via an aerial cablecar. (See our illustrated article on the Pilatus-Bahnen.)
Rhaetian Railway
Some of Switzerland's most impressive scenery and railway engineering is on the RhB. From Chur, narrow-gauge lines run to Arosa, Davos, St. Moritz, and other resorts in Graubünden. The Tirano line offers connections to Italy and Lugano.
Südostbahn
The SOB, formed by a merger of the Bodensee-Toggenburg Bahn and the existing Scheizerische Südostbahn, has routes in Northeastern Switzerland from near Lake Zürich to the Bodensee (Lake Constance).
Swiss Federal Railways (SBB CFF FFS)
When you're ready to plan your trip, use the SBB's English-language online timetable to plan your train, bus, and boat connections. The database includes many European routes outside Switzerland, and you can order tickets online.
Wengernalp Bahn
The WAB is a cogwheel railway that runs from Grindelwald to Wengen and Lauterbrunnen. If you take the Jungfrau Railway excursion from Interlaken, you'll ride the WAB from Grindelwald or Lauterbrunnen to the Jungfraubahn's station at Kleine Scheidegg.
Related material
Swiss Official Timetable switzerlandforvisitors.com
Train, funicular, cablecar, boat, and bus schedules are available on the Web, for your smartphone, or as printed books.
---
Rail Europe our partner
If you live in the U.S., Canada, or the United Kingdom, you can use this site to buy Swiss, Austrian, and other European rail passes in your local currency. The site, which is operated by the Swiss and French national railroads, also has links to general agents in other countries.
---
Photo: Copyright © Switzerland Tourism.