Tour Espacité
From: La Chaux-de-Fonds, Switzerland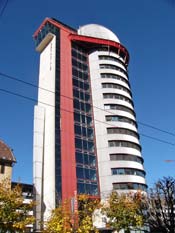 ABOVE: The Espacité Tower offers panoramic views from a 14th-floor observatory (inset below).

The Tour Espacité, or Espacité Tower, is the centerpiece of a downtown multi-use project on the Place Le Corbusier in La Chaux-de-Fonds, Switzerland.
The building, designed by architects Jacques Richter and Ignacio Dahl Rocha of Lausanne, is 60 meters or 179 feet high and was completed in 1994.
The Espacité Tower should be your first stop on any visit to La Chaux-de-Fonds, if only because the Tourist Office is on the ground floor. Pick up a map and brochures about local attractions.
After visiting the Tourist Office, take the free lift to the 14th-floor observatory. (You'll also find a café where you can get drinks or snacks at reasonable prices.)
When you've had a chance to orient yourself to the city from the viewing platform, you can ride the elevator back to ground level or--better yet--take the glassed-in staircase, which offers constantly changing perspectives on the walk down.
Views from the top: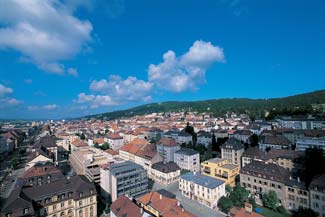 This photo shows a summer view of the rectilinear cityscape.
---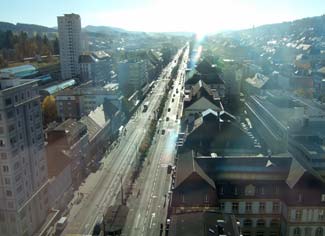 From 14 stories above ground, the Avenue Léopold-Robert has a passing resemblance to New York's Park Avenue.
---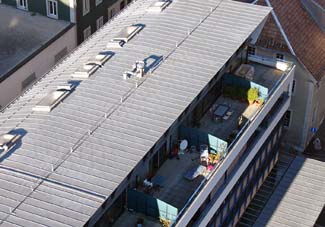 Here are two views of apartments from the Espacité multi-use development, which was begun in 1987 to commemorate the 100th anniversary of Le Corbusier's birth.