Venice > Sightseeing > Amerigo Vespucci
Amerigo Vespucci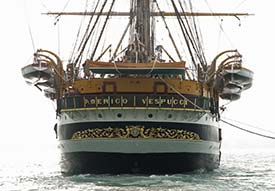 ABOVE: The Americo Vespucci leaves the Venice waterfront on a cool, foggy autumn morning.
A Sailing Ship in Venice
By Durant Imboden
If you're lucky enough to see a "tall ship" in St. Mark's Basin, there's a good chance that it's the Amerigo Vespucci. The three-masted sailing vessel entered service in 1931 as a training ship of the Italian Naval Academy.
The ship is based in Livorno, Italy, and shows up in Venice from time to time as it cruises the Mediterranean or travels to sailing-ship regattas and other events around the world. It normally moors along the waterfront near the Giardini Pubblici and the Biennale grounds, and public tours are often available.
The Amerigo Vespucci is a good-sized vessel, measuring 101 meters (331) feet in length and 15.5 meters (51 feet) across the beam. With 26 canvas sails and traditional hemp-rope rigging, the ship requires a crew of 286. (With cadets on board, the ship's population climbs to about 450.)
For more information about the ship, read the Amerigo Vespucci page at Wikipedia.
More photos: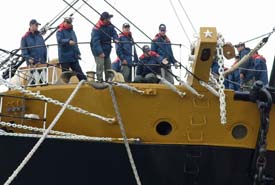 The crew casts off from the Amerigo Vespucci's berth on the Venice waterfront near the Biennale grounds.
---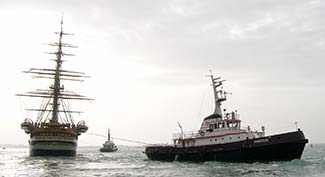 A tugboat tows the Vespucci into position for departure from St. Mark's Basin. (The ship is powered by two diesel engines when it isn't under sail.)
---