An Apartment in Venice
Santa Maria Formosa
by Durant Imboden
---
Archived article: This specific apartment wasn't available for rental the last time we checked, but we've left our article online as an example of what you might find if you book a lower-end vacation apartment in Venice.
---
If you're staying in Venice for a few days or longer, consider renting a furnished apartment or holiday flat. There are three good reasons why you may prefer an apartment over a hotel:
The apartment is likely to be a better value, since a multi-room holiday flat is often no more expensive than a double room in a three-star hotel.

You'll have more space, with a kitchen and possibly a washing machine for clothes.

You'll feel like a resident of Venice instead of a tourist.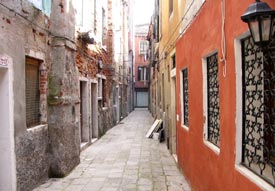 ABOVE: The holiday apartment (right) is on a quiet side street near the Campo Santa Maria Formosa. INSET BELOW: Doorbell and brass plate.

A few years ago, my son and I rented the "Rialto Bridge 2 Laura" apartment in Venice's Castello district, a few blocks from the Campo Santa Maria Formosa and about a 10-minute walk from the Piazza San Marco. The furnished apartment had a large living room with a dining table, a bedroom, a kitchen with a washing machine, and a bathroom that opened onto a private courtyard with a clothesline. The price was extremely reasonable: less than the cost of many three-star hotel rooms.
The location was perfect. We'd walk to the campo to relax or make phone calls while watching women buying flowers, old people chatting in the square, and kids bouncing soccer balls off the wall of the church. (Our apartment was at the end of a narrow alley off the cross street that led to the campo, so it was extremely quiet even at the busiest times of the day.)
The apartment wasn't fancy, but it was atmospheric, comfortable, and impeccably clean. It was the perfect size for two people and would have been ideal for a couple with one or two children. Four adults could share the apartment if one couple didn't mind sleeping on the living room's sofa bed. (One caveat: Although the apartment is heated, it doesn't have air conditioning. Still, because it isn't in the direct sun, it shouldn't get too hot on a typical summer day.)
For information on how to reserve the "Rialto Bridge 2 Laura" apartment through Venere, our Italian booking partner, see the booking information page. You can also click here or use the navigation table below to take a photo tour.
Next page: Booking information
---
---
---