Venice > Sightseeing > Gran Teatro La Fenice
Gran Teatro La Fenice

ABOVE: A canalside view of the Gran Teatro La Fenice, which reopened in 2003 after a catastrophic fire in 1996. INSET BELOW: The opera house's façade, which has survived two fires over the last two centuries, and a doggie diva on the theatre steps.
Venice may be a provincial town these days, but it still has an active cultural scene and an opera house that dates back to the waning days of the Venetian Republic. The Gran Teatro La Venice was built in 1792, five years before Napoleon sent the Doge packing, and the 326-seat jewel box of an opera house continues to please music fans and socialites more than 200 years later.

It's worth noting that the Italian word fenice means "phoenix," and the theatre has lived up to its name: In the 19th and 20th Centuries, La Fenice had two catastrophic fires--the first in 1836, and the second in January, 1996 after a pair of electricians set a small fire to avoid contractual penalties for work delays.
The 1996 fire quickly got out of hand, and firefighters were unable to control the blaze because the neighboring canals (which normally could have supplied water for hoses) had been drained for maintenance.
La Fenice was rebuilt after both fires, and the current incarnation of Gran Teatro La Fenice combines immaculately-restored architectural detail with modern behind-the-scenes stage technology.
The theatre reopened on December 14, 2003, less than eight years after being gutted by flames.
Operas, concerts, and tours

Gran Teatro La Fenice has a year-round schedule of opera performances, orchestral concerts, shows by visiting ballet companies, and other events.
Because the theatre is small, tickets are expensive and not always easy to obtain.
Fortunately, you needn't attend a performance to see the theatre: Self-guided audiotours are available most days, and groups can request guided tours. (See below for details.)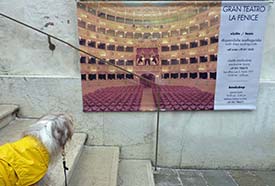 ABOVE: Maggie of Maggieinvenice.com admires a tour poster at the Gran Teatro La Fenice.
Practical information
The Gran Teatro La Fenice has a Web site at www.teatrolafenice.it, with some information in English.
The official directions are a bit vague if you're unfamiliar with Venice, but a good map will help you find the opera house. Google's satellite photo map is useful tool: The default view shows La Fenice's location in the sestiere of San Marco, and you can zoom in for a better view.
Self-guided tours
On most days, La Fenice is open for self-guided audio tours in English, Italian, French, Spanish, and German. (Tours are cancelled during daytime performances or other events.)
Groups of more than 10 people can book tours led by an official theatre guide.
For more details, see the official Web site's English-language theatre tours and timetable pages.
Please note:
The self-guided tour lasts about 45 minutes and does not include backstage areas. Allow extra time if you want a drink or snack in the café.

You can visit the book and gift shop in La Fenice's lobby without taking a tour.
---
More photos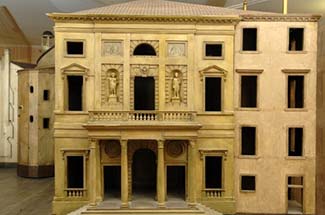 In 1790, Giannantonio Selva submitted this wooden model in a competition to select an architect for Venice's new opera house. He won the commission, and work began on La Fenice in 1791. The building was completed in just 18 months.
---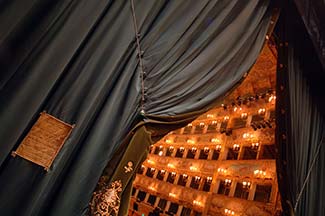 From behind the curtain, the restored boxes in the Gran Teatro La Fenice look much as they did before the catastrophic fire of 1996.
---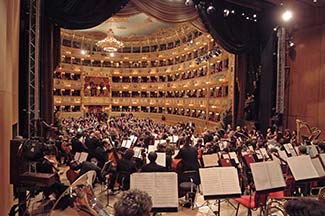 This picture of La Fenice, which was taken during an orchestral concert, shows what the house looks like from backstage.
---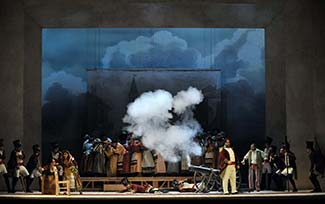 Opera is La Fenice's raison d'Ítre. This performance of Donizetti's L'elisir d'amore was directed by Bepi Morassi.
---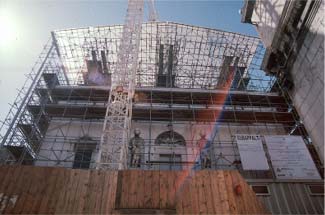 Much of La Fenice was destroyed by the fire of January 29, 1996. This 1999 picture shows the façade (which suffered only minimal damage) behind scaffolding and a wooden safety fence.
---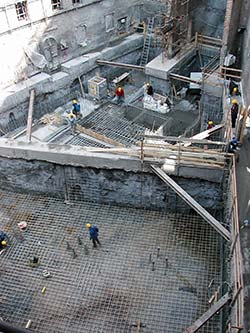 Full-blown reconstruction of the Gran Teatro La Fenice didn't begin until 2000, and most of the work took place from 2001 to 2003.
---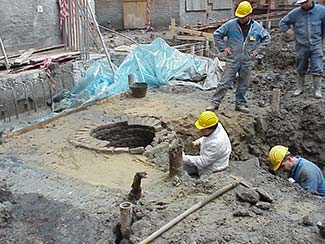 In this photo, workers pour concrete next to an old well, or pozzo, on the theatre site.
---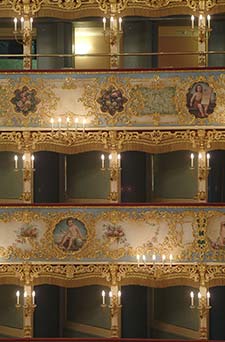 Michele Crosera's photograph of La Fenice's restored boxes shows the level of detail that went into the theatre's reconstruction. (The architects wanted to recreate the opera house as it looked in the 19th Century.)
---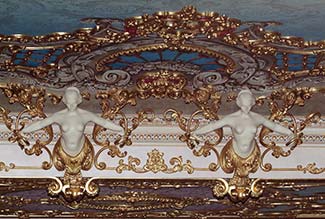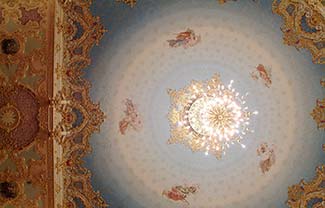 These two photos (also by Signor Crosera, like many others on this page) help to explain why rebuilding the Gran Teatro La Fenice cost an estimated 90 million euros.
---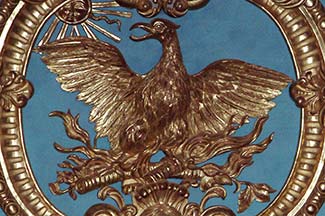 Here you can see the phoenix, or fenice, that inspired the theatre's name. The name was picked long before the Gran Teatro's two fires: It was meant to celebrate the rebirth of the Nobile Società di Palchettisti, or Noble Society of Boxholders, a theatre association that had lost an earlier opera house in a 1787 property dispute.
(Source: La Fenice Theatre, written by Filippo Fois and published by Marsilio Editori. The illustrated paperback guide, which contains photos by Michele Crosera, is available at the Gran Teatro La Fenice bookshop.)
---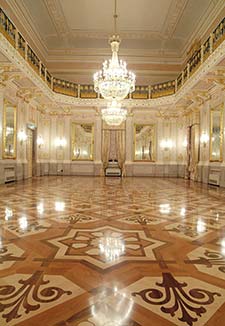 There's more to La Fenice than the house and stage. The theatre also has five important anterooms--among them, the Sala Grande, a large room for balls and chamber concerts that was rebuilt after being almost completely destroyed in the 1996 fire.
---
Photo 1: iStock.com/FotoVoyager.
InPhoto 2:s iStock.com/Luke Daniek.
Photos 5, 6, 7, 8, 12, 13, 14, 15, 16: © Michele Crosera.
Photos 10, 11: Egizia Fanti, Direzione dei lavori.
From the Media Library of Fundazione Teatro La Fenice.
---