Venice > Food & drink > Trattoria All' Antica Mola
Restaurant Review:
Trattoria All' Antica Mola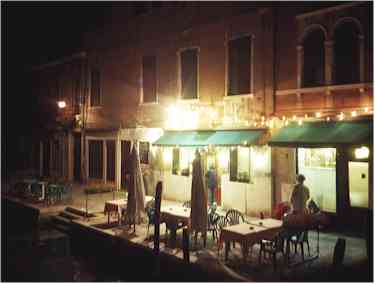 by Durant Imboden
Let me tell you about a little neighborhood restaurant in Venice that hasn't been discovered by tourists..." Right. And while you're at it, how about selling me the Rialto Bridge?
Face it: Venice has been a tourist town for centuries. Any restaurant with food worth eating is going to attract tourists, and so what? Tourists are some of the nicest people you'll meet. (If you don't believe me, look in the mirror.)
Instead of searching for the elusive (and non-existent) "undiscovered" restaurant, look for neighborhood restaurants that cater to a mixture of locals and out-of-towners. A good example is Trattoria All' Antica Mola in the sestiere of Cannaregio. On the night I was there, the crowd was about 50-50 locals and yokels, including a dog that barked with an Italian accent.
A touch of kitsch...
All' Antica Mola's decor leans heavily on Venetian themes, with walls covered in posters and prints of local scenery. Italian crooning oozes from the stereo speakers; it's the sort of dining room where Mario Lanza would instantly feel at home. The overall effect is one of tasteful kitsch. (Meals are also served at outdoor tables in good weather; see photo above.)
Service without a glitch.
When I dined at All' Antica Mola on a busy Friday evening, the personable owner greeted me courteously and led me to a table without delay. The two waitresses were polite and efficient, sharing customers and serving responsibilities with the kind of teamwork that's seldom seen in North American restaurants.
Good food, good prices.
All' Antica Mola's food was tasty and satisfying, and the prices were reasonable. (Note: Like most Italian sit-down restaurants, All' Antica Mola has a modest coperto to cover bread and cutlery. This shouldn't be confused with a service charge, and you should remember to tip.)
Directions to All' Antica Mola:
All' Antica Mola is on the Fondamenta degli Ormesini, not far from the Campo Ghetto Nuovo in Cannaregio. Here are two ways to reach it:
1) From the Ponte d. Guglie bridge or vaporetto stop on the Cannaregio Canal, look for an arched pedestrian passage next to the Gam Gam restaurant. Head through the passage to the Campo Ghetto Nuovo, exit via the north side of the campo, and turn right after crossing the bridge over the canal to the Fondamenta Degli Ormesini.
2) From the same bridge or waterbus stop, head down the Rio Terà S. Leonardo, which curves and continues as the Rio Terà Farsetti. Cross the bridge at the end of the street, and you'll be on the Fondamenta Degli Ormesini. Look for All' Antica Mola, which isn't far from the bridge.
(Note: If you'd like a map, see page 2 of our Pizzeria Al Faro review, which shows how to reach the Ghetto from the bridge or vaporetto stop mentioned above.)
Mixed reviews from readers
Several readers have praised All' Antica Mola, but we've received three e-mails over the years from readers who weren't happy with the food or who believed they were mistreated or ignored by the staff. If you try the restaurant, please send us an e-mail to describe your experience.
For more user opinions, see TripAdvisor's review page.