---
US Airways Philadelphia-Venice Flights
Archived article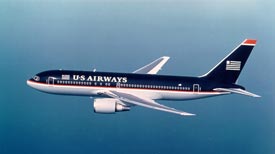 ABOVE: The US Airways Boeing 767-200ER carries 196 passengers nonstop between PHL and VCE.
On May 9, 2005, US Airways began daily nonstop service between Philadelphia and Venice. The seasonal service has been running from May through late October.
Flights use Boeing 767-200ER aircraft with 173 seats in coach and 23 in Envoy Class.
Star Alliance offers interchangeable frequent-flyer miles
US Airways is a member of the Star Alliance, which includes airlines such as Air Canada, Austrian Airlines, bmi (formerly British Midland), LOT Polish Airlines, Lufthansa, Scandinavian Airlines, Spanair, TAP Portugal, and United.
When you fly on an airline that belongs to an alliance, you can have frequent-flyer miles or points assigned to your preferred frequent-flyer program. For example, if you normally fly United, you can have your US Airways Philadelphia-Venice miles credited to your United Mileage Plus account.
For more information on US Airways' flight schedules and fares, visit usairways.com.
Editor's notes:
We've flown US Airways through Philadelphia, and we can recommend the airport. (The white rocking chairs along the main concourse are a pleasant place to sit while killing time between flights.)

Delta Airlines also offers nonstop service between the United States and Venice. On most days, Boeing 767 flights leave New York's JFK International Airport in the evening, arriving in Venice the next morning. Return trips to JFK depart VCE around 11 a.m. or noon, depending on the season. For details, check the flight planner at www.delta.com.
Photo copyright © US Airways. Used by permission.