Vaporetto on Grand Canal
From: Vaporetto Sights and Sounds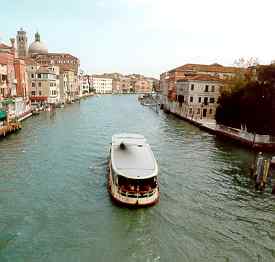 This water bus is a local vaporetto on Route No. 1, which zigzags across the Grand Canal as it makes its way from the Piazzale Roma and the railway station to the Piazza San Marco. After San Marco, it stops several more times before turning around at Venice's resort island, the Lido.
The No. 1 boat is slow, and it can be crowded during peak season or at rush hour. If you plan to use this route for sightseeing, board the boat at the end of the line (Piazzale Roma or Lido) and grab a seat in the open bow or stern. (Newer vaporetti don't have seating in the bow, but now and then you'll get lucky and find yourself on an older boat.)
Note: Vaporetti along the Grand Canal are accessible by wheelchairs and strollers, and the conductor will help you board or disembark if the water is choppy.
Back to: "Vaporetto Sights & Sounds" article