Vaporetto Sights and Sounds
Archived Article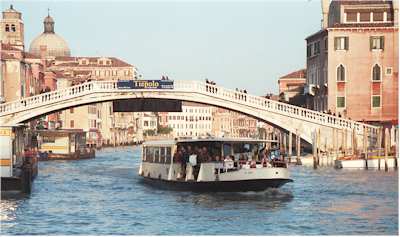 ABOVE: An older, open-bow No. 1 vaporetto approaches Venice's Santa Lucia railroad station.
Sights
Click the thumbnails to see the full-size photos with descriptions and sightseeing tips.
Vaporetto on Grand Canal

Vaporetto cabin

Vaporetti in convoy
Sounds
Click the thumbnail photo or text link below to open a page where you can hear a sound recording of a vaporetto arriving at a station.
Related articles
Venice Local Transportation
This article has up-to-date information on vaporetti, water taxis, gondolas, and traghetti. It includes prices for waterbus tickets and tourist discount passes, and it has a link to an official map of vaporetto routes.
Vaporetto Routes
Venice's waterbus system is more Byzantine than St. Mark's Cathedral. This article and route table will make the vaporetti less confusing. Also see our Vaporetto and Bus Fares article.