Venice > Planning > Chorus Pass
Venice Chorus Pass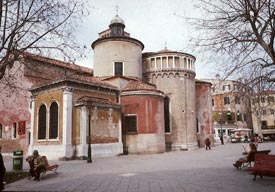 ABOVE: Admission to the church of San Giacomo dall'Orio is free with the Chorus Pass. (The church, which is one of the oldest in Venice, has an attractive keel-vaulted wooden ceiling. It's located on a friendly neighborhood campo in Santa Croce.)
---
By Durant Imboden
Some of Venice's churches use admission fees to help with their maintenance and restoration. You can save money and avoid the hassle of buying individual tickets with the Chorus Pass, which costs only €12,00 and lets you visit 15 Venice churches that charge admission during a one-year period.
Since the price of an individual ticket is €3,00, you'll more than recoup the price of the pass if you visit four churches. (A family pass is available for €20 and covers four people: two adults and two children up to age 18.)
You can buy the Chorus Pass at any of the participating churches and at several other locations around town. It's also available online.
For details, including current prices and church opening hours, see the "Information" page at the Chorus Venezia Web site.