Venice > Special topics > Movies
Venice Movies and Videos
By Durant Imboden
Before you head for Venice, get a preview of what you'll be seeing with a selection of feature films and travelogues. Some are available on streaming video, while others may be on VHS cassettes, DVDs, or Blu-Ray disks that are gathering dust at your local flea market.
Feature films
For detailed reviews and other information about these pictures, see the Internet Movie Database.
Bread & Tulips
starring Licia Maglietta and Bruno Ganz
One of our favorite Venice movies, released in 2000 and known as Pane i Tulepani in Italian, is about a suburban Italian wife and mother who accepts a ride to Venice on a whim after she's been left behind by a tour bus during a family vacation. She finds a room, meets a cast of oddball characters, talks her way into a job, and samples life as an independent woman while her husband desperately tries to track her down and bring her home. The movie is delightful, even if the comedy is a bit heavy-handed at times, and the locations are well off the beaten Venetian track.
Everyone Says I Love You
starring Woody Allen, Alan Alda, Goldie Hawn, Drew Barrymore, Julia Roberts, etc.
Woody Allen's 1996 musical comedy is set mostly in New York, but it has 15 or 20 minutes of stunning Venice footage--including shots of back streets, a palazzo, and the Grand Canal. The film's only disappointment is its rating, which is "R" for what the MPAA calls "one use of strong language." (The rating should have been "PG.")
Summertime
starring Katherine Hepburn
David Lean directed this 1955 movie, which starred Katherine Hepburn as a love-starved American on her first trip to Venice. The film is packed with beautiful scenery that hasn't changed in the intervening decades. The Pensione Accademia Villa Maravegie, where the hotel interiors were shot, is still popular with American tourists.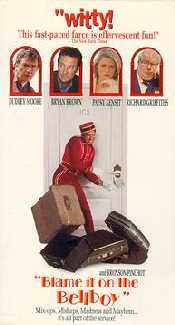 Blame it on the Bellboy
starring Dudley Moore, Richard Griffiths, and Bronson Pinchot
This amiable farce was released in 1995. As the video's jacket copy said, "The hilarity kicks off when a daffy bellboy accidentally switches the itinerary envelopes for three guests. His actions cause a hilarious case of mistaken identities, sending the trio down a road of comic, non-stop adventures!"
The whole thing is silly, but the cast maintains a deadpan demeanor during the shenanigans, and--most important to us--the Venice setting is a delight. (Still, it's best not to speculate on why why a villa that's supposedly on the Lido would be directly under the landing path of Marco Polo Airport, which is a good distance away on the mainland.)
Blume in Love
starring George Segal, Susan Anspach, Kris Kristofferson, and Marsha Mason
If you're the sort who feels that a little George Segal can go a long way, you may be hesitant to rent this 1973 romantic comedy by director Paul Mazursky. The film is about a man who refuses to believe that his estranged wife no longer loves him. Fortunately for us, the abandoned hubby feels compelled to revisit the scene of their first and second honeymoon in Venice, and the movie repeatedly flashes back and forth between the story (which gets a bit tiresome) and the Piazza San Marco (which doesn't).
Nudo di Donna
starring Nino Manfredi and Eleonora Giorgi
Portrait of a Woman, Nude (the English title) is a 1984 comedy directed by Nino Manfredi, one of Italy's most popular film stars. The picture is a nonstop travelogue of Venice during Carnival season, with settings that include streets, piazzas, canal boats, and interiors of sumptuous palazzi. At times the audience has trouble separating fact from fantasy, but Nudo di Donna is a fun picture and is packed with irresistable scenery. Manfredi is enjoyable, as always, in the role of a bemused Italian male, and Eleonora Giorgi is as impressive as she is beautiful in her debut role as Manfredi's wife and mistress.
Senso
starring Alida Valli and Farley Granger
Luciani Visconti directed this 1954 drama about an Austrian officer and his aristocratic Italian mistress who's cheating on her husband. The story takes place in the waning years of the Austrian occupation of Venice, and it includes many scenes in Venice and the surrounding countryside. The whole thing is a bit depressing (and rather overwrought toward the end), but it's worth watching if you've popped a Prozac beforehand.
Don't Look Now
starring Julie Christie and Donald Sutherland
In this 1973 movie based on a Daphne de Maurier novel, Julie Christie plays the mother of a drowned child; her husband, played by Donald Sutherland, restores churches for a living. When the two are in Venice, Mum meets a pair of sisters (one a psychic to claims to be in communication with her daughter), but her husband remains skeptical until his own psychic abilities kick into gear. Throw in a serial killer, and you've got a film whose plot has more loose ends than an unraveled hawser. (Still, Venice looks ravishing as always, and so does Julie Christie--especially in the gratuitous and steamy nude scenes.)
Travelogues
Travels in Europe with Rick Steves
#5: Venice
Rick Steves, an author and tour guide who specializes in budget travel, stars in a series of 28-minute European travelogues that are broadcast by public TV stations across the United States. Program #5 is a lively and personal introduction to Venice. While it's a bit long in the tooth by now, it remains a refreshing change from the stuffiness and unoriginality of most travel videos. You should be able to find the DVD in your public library or at RickSteves.com.
Venetian Carnevale: The Greatest Masquerade

Jon-Beau Lee's 40-minute video celebrates the costumes, masks, miming, and milieu of Venice's annual Carnival. See our review. (The video was out of print the last time we checked, but you may able to find it at a library or on eBay.)
Music Video
Diva
The music video of British rock singer Annie Lennox's hit album is photographed against a Venice backdrop. Most of the scenes are interiors, unfortunately, but the final track--shot in the Piazza San Marco, with Annie Lennox dressed in Carnival costume--is worth the modest price of the video.