Venice's Oldest Cat?
Page 2
Continued from page 1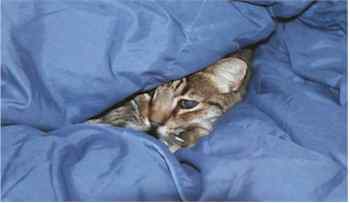 ABOVE: Neno in the sleeping bag where he takes his afternoon naps.
What about other animals?
There was a time when I had a weekend house near Venice. Neno loved it. We were far from any main roads, so I felt he was safe even if he stayed out all night. I'd get up in the morning and find Neno sitting outside the door with his 'catch' of mice and moles neatly lined up on the front doorstep.
I also had a horse, a stallion named Cherokee. He was very gentle and loved company. Cherokee and Neno became friends, and many times I'd find Neno sleeping on Cheroke's warm, wide rump.
Does Neno still go out at his ripe old age?
Neno loves to go out. Though he doesn't wander far from home, he does have his routine. He scopes out the fondamenta to make sure no other cats around. Then he'll go into the campo around the corner and stroll over the bridge to the big church square where grass grows between the bricks. He likes to eat grass to aid his digestion.
When I met Neno, you told me that he liked to sleep on the neighbor's workboat. Can you elaborate?
First, a little background: Neno and his mate, Monkey, went everywhere with me when they were little. I'd bring them along for long weekends on my husband's sailboat. They loved it--we'd catch fresh fish for them, and Neno could eat a dozen or more fish in one meal. (In his heyday, he weighed 15 pounds.) If we anchored in shallow water to go clamming, the cats would jump out of the boat to follow us. Where the water was deep they'd swim, and they'd wade in the shallow water.
Neno spent the first 10 years of his life as both a pampered apartment cat and a real Venetian boat cat. When I moved to my new apartment, Neno found that a workboat was tied up in front of the building every evening and all weekend. Neno has always felt right at home on the boat. He meows to get out of the apartment, then heads straight for the boat. He jumps on board, sniffs the boat from bow to stern, then finds a sunny spot to stretch out and lets the boat rock him to sleep.
Can you tell us about Neno's relationship with the neighbors?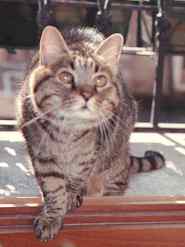 I mentioned before that Neno likes to have grass to digest. My neighbors who live on the top floor also own a little patch of garden on the ground floor. When I'd go to visit them, Neno would follow me and take advantage of the grass in my neighbors' little garden.
After a while, he began sitting in front of my neighbors' door and meowing at passing strangers whenever I let him out. People would think he was locked out and ring my neighbors' doorbell to say "their" cat wanted in. My neighbors started letting him into their garden, and sometimes they'd take him up to their apartment and let him sit on their rooftop balcony. Pretty soon, they began calling me to say they'd been to the market and had some shrimp, and could Neno come up for lunch?
Neno had found a second family! He'd go every Sunday morning and spend the day with them. My neighbors would tell me how he spent his day: first a little sun on the deck, then some shrimp for lunch, and then he'd nod off in front of the TV on the sofa. If the neighbor's daughter was studying, Neno would curl up on a chair next to her--or on top of her books and papers, if too much time went by without a pat. Then he'd wander into the kitchen and watch supper being prepared. About 9 p.m., he'd be sent home.
Neno continues to have an active social life, and he still enjoys his Sunday outings with the neighbors--including the daughter, who is now grown up.
Next page : Neno, page 3
---
---