Costa Magica Cruise Photos
From: Costa Magica Cruise Review
At sea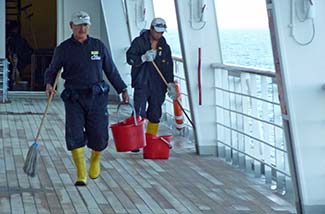 We had one sea day during our itinerary--a day of cruising between Naples and Palma de Mallorca--so we used our leisure time to explore the ship. Our first stop was the open area beneath the lifeboats on Deck 3, where sailors were swabbing the teak deck planks.
---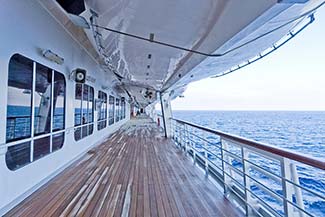 Except for the sailors, the deck was almost empty, so we had most of the space to ourselves.
---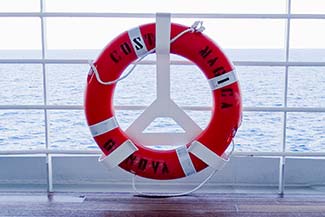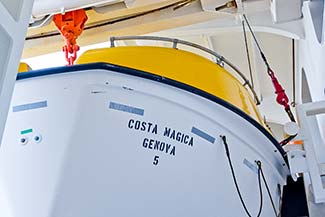 Life preservers and inscriptions on lifeboats reminded passengers that Costa Magica's home port was Genova (Genoa), Italy.
---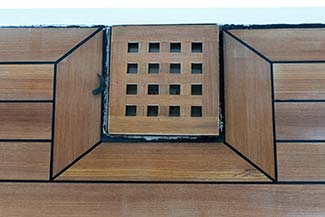 The deck had a traditional feel with its teak planks and details like the wooden drain above. It was one of our favorite places on Costa Magica, since it reminded us of the ships that we took across the Atlantic and Pacific when we were in our childhood and teens.
---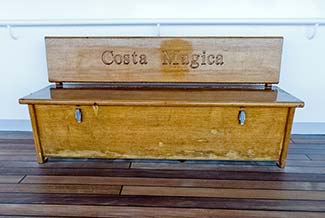 Wooden benches on Deck 3 and other open areas of the ship added to the maritime ambiance. (The bench in this photo showed signs of wear, probably from being pounded by saltwater on rough ocean crossings.)
---
---
---
---
"Best of the Web"
- Forbes and The Washington Post

Click or tap photos for cruise reviews:
---
Also see:

Venice for Cruisers
Getting to or from your ship, Venice hotels for cruisers, the Marittima and San Basilio piers, and more.

Rome for Cruisers
Trains to and from the port, plus a 35-page Civitavecchia city and port guide.
---
From Durant and Cheryl Imboden:

About Our Sites

Privacy and Cookies
---
Advertisement: