Longyearbyen
Spitsbergen, Svalbard, Norway
Page 7
Continued from page 6
By Durant Imboden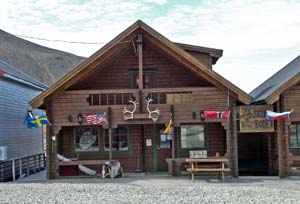 ABOVE: Longyearbyen has a number of shops that sell sporting goods, sweaters, local handicrafts, and other goods without Norwegian VAT and import duties.
Shopping in Longyearbyen

Most of Longyearbyen's shops are in the small, pedestrian-friendly downtown business district. You'll find souvenir shops, clothing boutiques, and sporting-goods stores where you can load up on sweaters and other handicrafts, arctic expedition gear, trip mementoes, and ordinary clothing. You can even rent a rifle and trip-wire system to avoid being eaten by polar bears. And because Svalbard is a tax-free zone, prices are often lower than on the Norwegian mainland.

Lompensenteret, shown at left, is a cozy downtown mall that also houses the Public Library.
Across the street, Svalbardbutikken (a.k.a. Co-op Svalbard) is a large, modern supermarket and general store. The onsite liquor store is popular with Norwegian tourists, since booze in Svalbard isn't subject to Norway's high taxes on alcohol. (Bring your airline ticket to prove that you're a visitor, and be aware that you'll need to declare excess liquor at customs when you return to mainland Norway.)
For books, maps, and similar items, try the Svalbard Museum Shop (which also has fossils and other local gifts) or the downtown office of the Norwegian Polar Institute, where you'll find a good assortment of topographical maps, touring maps, and arctic handbooks.
Downtown is also home to Longyearbyen's Post Office, where the friendly staff may greet you (as they did me) with "The United States of America? My goodness gracious!" when you buy stamps for your postcards.
Money. The Norwegian krone is used throughout Svalbard, including the Russian settlement of Barentsburg. Credit cards are widely accepted, and you can obtain cash at the ATM at the Sparebank (in the same building as the Post Office).
Next page: Arrival and departure
---
---
---
---
"Best of the Web"
- Forbes and The Washington Post
---
Advertisement:
---

Need a car in Europe?
If you live outside the EU, a tax-free Renault or Peugeot tourist car lease can be cheaper than renting for visits of three weeks or longer. Minimum driver age is 18, there' s no upper age limit, and rates include insurance.
---
Auto Europe makes it easy to find the best car and motorhome rental rates in more than 20,000 locations.