Freiburg Photos
From: Freiburg im Breisgau, Germany
By Durant Imboden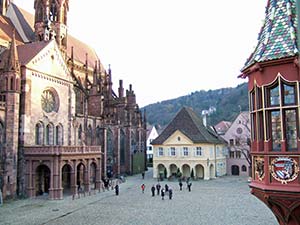 The Münsterplatz is the physical and spiritual heart of Freiburg's Altstadt. The Münster (left) was begun in 1200 A.D. and took more than 300 years to complete. It was a parish church until 1821, when Freiburg acquired an archbishop and the church became a cathedral. Whether by luck or divine intervention, the Münster was undamaged by the many wars and seiges that took place over the centuries, including the Allied bombing that destroyed much of Freiburg's Altstadt on November 27, 1944.
In the distance, behind the old guardhouse known as the Alte Wache (now a showroom for Baden wines), you can see the Schlossberg, which is part of Germany's Black Forest.
For more pictures of Freiburg, click "Next photo" on each page:
---
---
---
---
"Best of the Web"
- Forbes and The Washington Post
---
Advertisement:
---

Need a hotel in Germany?
Booking.com offers guaranteed lowest available rates at more than 33,000 hotels, guesthouses, and hostels throughout Germany.

Search for hotels, or pick a city