The Pancake Boat
De Pannenkoekenboot
From: Rotterdam, Netherlands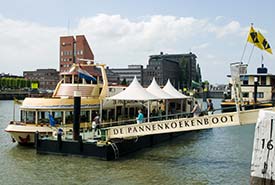 ABOVE: The Pancake Boat at its pier in Rotterdam's Parkhaven. INSET BELOW: Another view of De Pannenkoeken Boot, and a Dutch dessert pancake with apple slices, applesauce, brown sugar, and chocolate shavings.
By Durant Imboden

De Pannenkoeken Boat, a.k.a. The Pancake Boat, is one of Rotterdam's best dining and sightseeing values. For a modest price (€15 when this article was written in 2009), you get an all-you-can-eat pancake meal plus a 60-minute harbor excursion. Kids from 3½ to 12 pay two-thirds price, and toddlers eat free.
The vintage boat has two decks with large windows, wood paneling, four- to six-person tables, and an outdoor area where you can enjoy fresh air after you've stuffed yourself with dinner pancakes, dessert pancakes, and optional ice cream. If our experience is any guide, nearly all of your fellow passengers will be Dutch--mostly parents, grandparents, and children.

The Pannenkoeken Boat's Web site is in Dutch only, but Google Translate's English-language version will help you plan your excursion. Click the site's "Urrvaarten" link for a description of the standard one-hour trip, which departs at 4:30 p.m. or 6:00 p.m. on Wednesday, Friday, Saturday, and Sunday. Other choices include:
"Familie Cruise" (2½ hours with pancakes, a hot buffet, and ice cream at 1:30 p.m. on Saturdays and Sundays, and at 1:30 p.m. from Tuesday to Sunday during school holidays).
"Pancake Cruise" (3 hours with pancakes, a hot buffet, and an ice-cream dessert at 8 p.m. on Saturdays year-round).
"Brunchvaart" (2 hours with pancakes and sandwiches at 11 a.m. on the first Sunday of the month and on certain holidays).
To see a calendar of what's on offer at any given time of year, click the Web site's "Festdagen" and "Vaarschema" links.
How to enjoy the Pancake Boat:
Reserve ahead, if possible, by phoning (010) 436 72 95 or clicking "Contact" on the Pannenkoeken Boat's Web site and filling in the e-form.
When dinner service begins, stay put until your table number is called. You can then go to the kitchen area, collect a plate with a plain, apple, or bacon pancake, and pile it high with sweet or savory toppings at the buffet counter.
Later, the staff will open a sundae bar. (On standard one-hour cruises, ice-cream desserts cost extra.)
Tips:
De Pannenkoeken Boot also operates boats in Amsterdam (near the NSDM ferry from Amsterdam Centraal Station) and in Nijmegen, an historic Dutch river city near the German border. For more information, use the Dutch or English links above.
Next page: More Pancake Boat photos
---
---
---
Search for more information on our site:
Custom Search
---
"Best of the Web"
- Forbes and The Washington Post
---
Netherlands:
---
---
---

Need a car in Europe?
Auto Europe guarantees the lowest rental rates for standard cars, sports cars, SUVs, luxury cars, chauffered sedans, and RVs. Its Web site also has driving information for 38 countries.
If you live outside the EU, a tax-free Renault or Peugeot tourist lease can be cheaper than renting. Minimum driver age is 18, there' s no upper age limit, and rates include insurance. See: Short-term car leasing.