Matterhorn (Zermatt)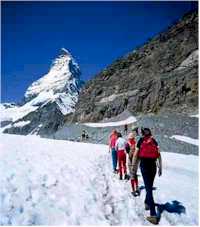 ABOVE: Matterhorn and admirers.
Zermatt, Switzerland has been attracting foreign visitors since the middle of the 19th Century, when its local mountain and icon--the Matterhorn--represented the last of Europe's major Alps that had yet to be climbed. In his monograph on Swiss Tourism, Rush to the Alps, Paul P. Bernard describes the Matterhorn mystique of the late 1850s:
"That towering pyramid, set off from its neighbors, seeming to thrust into the very sky, was the object, more than any other Alpine peak, of a host of superstitious tales. In both valleys affording access to the mountain, the Mattertal from the north, the Valtournanche from the south, old men told dark tales of the awful disasters that would assuredly befall those who dared to come too near to it. There were stories about ruined cities buried beneath the snow-masses. In addition the opinion of experienced Valais guides in Zermatt, on the Swiss side, was that the mountain was so steep, a succession of smooth cliffs from base to summit, as to be quite unclimbable."
The Italian side of the mountain looked more promising, and several groups--both Italian and British--tried unsuccessfully to reach the peak via the western slope.

In 1861, a 21-year-old Englishman and amateur artist named Edward Whymper visited Zermatt. While sketching the Matterhorn, Whymper became interested in climbing. One thing led to another, and Whymper made several attempts on the Matterhorn over the next few years. In 1865, with a large Italian party scheduled to assault the peak from the southwest ridge, Whymper hastily put together a group of climbers and headed for the mountain's Swiss side. The young Englishman and his climbing friends reached the summit at 1:40 p.m. on July 14, 1865. All went well until, during the descent, one of Whymper's companions slipped and a rope broke, sending four climbers to their deaths.
The resulting newspaper coverage whetted the public's interest in both climbing and the Matterhorn, and a new tourist industry was born. Today, more than 3,000 aspiring Alpinists hire guides and attempt the Matterhorn every year. (The route is easier now, thanks to a network of fixed pitons and ropes over the trickier sections.) And every year, a few tourists die on the mountain--usually by attempting to climb it on their own.
Climbing the Matterhorn (with Web links)
---
---
---