Yodeling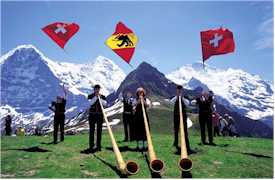 ABOVE: Follow the sound of yodeling to its source, and there's a good chance that you'll find alphorn players and flag throwing--in Switzerland, if not in Austria.
By Durant Imboden
Yodeling is to the Alps what the Beach Boys are to Southern California, or what hog calling is to the Ozarks. But what exactly is yodeling? Compton's Encylopedia describes the yodel as "a style of singing two alternating tones, a lower one with a full voice and a higher one with a lighter falsetto voice." For a less academic description, we can turn to the classic "knock, knock" joke:
"Knock, knock."
"Who's there?"
"Little old lady."
"Little old lady who?"
"I didn't know you could yodel!"
Yodeling comes in different styles, from the undulating two-tone cries of Swiss cowherds and goatherds to the soft, mellow choral yodels of Austrian and Bavarian Adventsingen.
Nowadays, Swiss and Austrian yodeling is heard mainly in folklore festivals, tourist restaurants, or sound recordings. The local yokels are too busy making money off tourists to yodel from mountaintops. Someone has to take on the responsibility for keeping outdoor yodeling alive, so why not do it yourself? Learn about the history of yodeling, take an online course, listen to recorded examples, memorize yodeling jokes, and try a "Yodel" drink recipe by using the links on the next two pages. By the time you visit Switzerland or Austria, you'll be ready to impress the natives with your yodeling knowledge and ability.
Next Page > Yodeling info, lessons > Page 1, 2, 3
---
---
Photo copyright © Switzerland Tourism. Used by permission.