---
Orsoni Mosaic Courses
Classes in mosaic technique and portraiture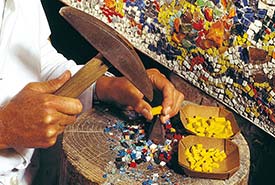 ABOVE: Preparing tesserae of smalti, or opaque colored glass, for mosaic work. INSET BELOW: A close-up of tesserae in two of Orsoni's 2,000+ hues, and the entrance to the Domus Orsoni bed-and-breakfast.

Orsoni, an internationally renowned manufacturer of Venetian glass and gold mosaics since 1888, offers intensive three-, seven, and 14-day courses in mosaic art for Italian- or English-speaking students. Courses include:
Master in Mosaic (one or two weeks)

"Thematic classes" in micro-mosaic or portraiture (two weeks)

Mosaic Workshop (three days)
Course fees include equipment and materials, an Orsoni apron, and (for the longer courses) guided tours to Torcello and/or the Basilica di San Marco, which are famous for their glass, gold, and stone mosaics.

Accommodations and meals aren't included in the course fees. If you wish, you can book a room with mosaic decorations in the Domus Orsoni, a bed-and-breakfast operated by the foundry. (Students who reside at the Domus Orsoni have 24-hour access to the mosaic studio, which--like the B&B--is located in the sestiere of Cannaregio, not far from the Venetian Ghetto.)
For more information on Orsoni and its mosaic courses, visit www.orsoni.com.
---
---
Photos copyright © Angelo Orsoni s.r.l.