Venice's Ghetto
Today, the word "ghetto" has a negative connotation, being associated with modern urban slums and the persecution of Jews in Central Europe during the Nazi era. But in 1516, when an enclosed neighborhood for Jews was created in Venice, "ghetto" referred to the foundry that the district replaced. What's more, the intention wasn't to persecute Jews per se: The Venetian Republic segregated its Jews to placate the Roman Catholic Church, which had already forced the expulsion of Jews from much of Western Europe.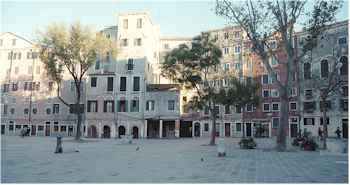 ABOVE: The Campo del Ghetto Nuovo, or "New Ghetto," in Venice, Italy. Despite the name, it was founded earlier than the adjacent Ghetto Vecchio ("Old Ghetto").
The Ghetto both isolated and protected the Jewish residents of Venice who lived within its walls. In The Venetian Ghetto, Bernard Dov Cooperman writes:
"The Ghetto's Jews did not refer to their enforced residence as a jail. Rather, it was a biblical 'camp of the Hebrews,' a place of Holiness on the way to the Promised Land. In Verona they declared a public celebration of its establishment. For the puritanical young rabbi, Samuel Aboab, who had first seen Venice as a 13-year-old student, the city's Ghetto seemed Isaiah's Jerusalem .... Aboab's attitude tells us much about Venetian Jewry's intense efforts to order their enclosed world; his choice of words tells us even more about how these Jews identified with their community-behind-walls and gloried in it."
Cooperman adds:
"Throughout the Mediterranean region, it was quite customary for foreign merchants to be housed in a separate quarter....When we try to evaluate the Venetian Ghetto, we must remember that sixteenth-century Venice also restricted the living quarters of Turkish and German merchants....The Venetian Ghetto always served both religious sensibilities and commercial needs. It allowed Venice to maintain its religious purity while reacting to changed economic conditions."
Next page: Life in Venice's Ghetto
---
---
---
The premier travel-planning site
for Venice, Italy since 1997

---

Too many bridges, too little time?
Choose from handpicked Venice hotels (in all price ranges) within 0, 1, or 2 bridges of airport buses, taxis, trains, cruise piers, and airport-boat stops. We show maps, directions, booking links, and hotel Web sites.
» Click for easy-to-reach hotels
---
---
Venice for Cruisers:

---

Need a car in Europe?
Auto Europe guarantees the lowest rental rates for standard cars, sports cars, SUVs, luxury cars, chauffered sedans, and RVs. Its Web site also has driving information for 38 countries.
If you live outside the EU, a tax-free Renault or Peugeot tourist lease can be cheaper than renting. Minimum driver age is 18, there' s no upper age limit, and rates include insurance. See: Short-term car leasing.
---
Our blogs:

---