In a hurry, or using a
smartphone? See:
H
enry James wrote that Venice was best approached by sea. That's still a good rule to follow, even in the airline era--and thanks to the
Alilaguna
motoscafi from Venice's Marco Polo International Airport, you can heed the novelist's advice for the cost of a local boat ticket.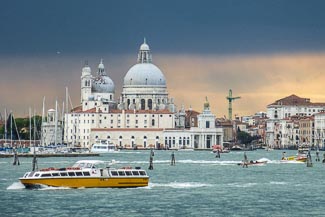 ABOVE: An Alilaguna Linea Blu airport boat speeds through St. Mark's Basin on its way to Venice Marco Polo Airport.
Alilaguna routes
During the daytime, anywhere from two to five Alilaguna lines may be in operation, depending on the season and Alilaguna's current scheduling whims. The main routes are:
Linea Blu or Blue Line (Airport-San Marco-Stazione Marittima), with intermediate stops at Murano Colonna, Fondamenta Nove, Ospedale, Bacini, Certosa, Lido S.M.E., Arsenale, San Zaccaria, San Marco, Zattere, and Giudecca Stucky before reaching the Marittima cruise terminal.
Linea Arancio or Orange Line (Airport-Rialto-Santa Maria del Giglio) with intermediate stops at Fondamenta Nove (night only), Madonna Dell'Orto, Guglie, San Stae, Rialto, Sant'Angelo, and Ca' Rezzonico.
Linea Rossa or Red Line (Airport-Lido-San Marco), a seasonal route with stops at Murano Museo, Certosa, and San Marco on its way to Giudecca Zitelle. This line normally operates from the end of April until early November.
(The Alilaguna map also shows a "Linea Verde," or "Green Line," but this is a guided boat tour, not a transportation service.)
Tip: If all of the above seems confusing, just go to the Alilaguna ticket booth, show the location of your hotel on a map, and let the ticket clerk decide which boat you need to catch.
Fares
Adult one-way fares range from 8 to 15 euros, depending on distance, with a reduction for roundtrips on some routes. "Time tickets" (24 or 72 hours) are also available.
You'll pay an extra euro if you buy your ticket on board, and you can save a euro or two by booking online.
The fare includes transportation of one suitcase and one piece of hand luggage. Extra bags cost 3 euros each.
Please note:
Some versions of the VeneziaUnica tourist pass (formerly VeniceConnected) include Alilaguna airport transportation, but you may find it simpler just to buy a boat ticket.

Alilaguna is a separate company from ACTV, the transit authority that runs Venice's public water and land buses. ACTV's Tourist Travel Cards do not cover transportation on Alilaguna airport boats.
For up-to-date airport-boat timetables, fares, and a route map, click the Alilaguna link on page 2 of this article.
Updated December 30, 2016