Parking in Venice can be expensive: The last time we checked, a day's parking for a normal car was €21 at the Tronchetto parking garage just outside the historic center and a whopping €30 at the Garage San Marco in Venice's Piazzale Roma.
If such rates are too rich for your travel budget, you may prefer ASM Venezia's San Giuliano Car Parks on the Venetian mainland, where the daily rate for cars is only €5--an astonishing bargain by Venice standards. In addition to saving money, you'll avoid the risk of getting stuck in a traffic jam on the causeway between the mainland and Venice on a busy weekend or during high season.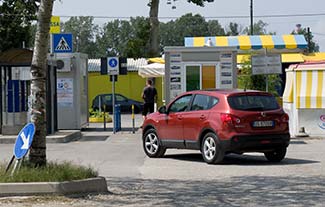 ABOVE: A car leaves the Porta Gialla parking lot at San Giuliano in Mestre. INSET BELOW: A path in the Parco San Giuliano, and the Porta Gialla or Yellow Gate.

The Parcheggi San Giuliano along the edge of the Parco San Giuliano in Mestre, a large regional park that you'll see across a canal on your left as you approach the causeway to Venice.

The park has four lots--red, blue, yellow, and a fourth small lot near several boat clubs--but the one that's most convenient for visiting Venice is the "Porta Gialla" or "Yellow Gate" lot on the southeastern border of the park. (See maps.)
From the park, you can catch a bus to Venice.
Caveat:

You'll need to factor in the hassle of getting from the parking lot to Venice and back when deciding whether to stay at San Giuliano. (You may end up deciding to pay more for the convenience of using Tronchetto, Venice's parking island.)
How to reach the Parcheggi San Giuliano:
From the A57 Autostrada or motorway, take the "Venezia" exit and follow road SR11 toward Venice. Watch for a large green area off to your left and exit at SS14. You'll see the park almost immediately. Turn right onto the Via San Giuliano as you approach the park and follow the road a short distance to the Porta Gialla parking lot, which will be on your left. To preview your route, see the "Parco San Giuliano map" on page 3 of this article, click "View Larger Map," and use the Google map controls as needed.
From downtown Mestre or Marghera, the route is similar: Use a local map to find your way east toward the Parco San Giuliano, then follow the Via San Giuliano to the Porta Gialla lot. (Your hotel concierge can help you with directions.)