Piazzale Roma
---

Every year, millions of tourists enter Venice through the Piazzale Roma. This utilitarian square, with its parking garages and bus bays, lies on the Venice side of the long causeway from the mainland.
The Piazzale Roma is Venice's gateway for several categories of travelers:
1) Tourists who arrive by public bus from the airport or parking lots on the mainland. (Note: If you're flying into Venice, the airport boat is a slower but more interesting way to reach the city.)

2) Motorists who are naïve enough to endure long lines at the Piazzale Roma's garages instead of using the more manageable Tronchetto parking island on busy or weekends or during high season.
3) Members of tour groups (although many tour buses discharge passengers at Tronchetto for transfer to vaporetto, water taxi, or private waterbus).
Getting to your hotel or cruise ship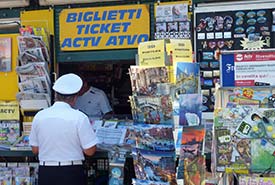 ABOVE: You can buy boat and bus tickets at the newsstand near the Piazzale Roma bus stops or in the Hellovenezia building nearby.
After arriving at the Piazzale Roma, look for the Hellovenezia office, which is a tile-roofed building near the tree-lined side of the square and the modern Calatrava Bridge. It sells tickets for public water buses (vaporetti) and land buses, along with Tourist Travel Cards (12 hours to 7 days) for longer visits.
If the lines at the Hellovenezia office are long, bypass them by purchasing your transit tickets at the newsstand (see photo above) in the middle of the square. This is also a good place to buy tickets for ATVO airport buses.

When you've bought your tickets, walk down the steps on either side of the small garden near the ACTV office to reach the landings for water buses and water taxis. (Vaporetti or water buses are far cheaper than water taxis, although the latter may be convenient if your hotel is on a side canal and you can split the fare with other members of a group.)

You can save money--and avoid crowded boats during high season--by simply walking to your destination. Before setting out, buy a good map at one of the newsstands in or around the Piazzale Roma.

Are you heading directly for a cruise ship at the Marittima cruise basin,? See our People Mover article. (The People Mover will get you from the Piazzale Roma to the port entrance in less than two minutes, and it's cheaper than taking a water bus or taxi.)

If you have an early airport departure, are staying in Venice overnight before or after a cruise departure, or are visiting the city for only a day or two, a hotel near the Piazzale Roma may be convenient. Two hotels are directly on the square, and others are close by. Click here for hotel suggestions.
Finally, we recommend looking at our Aerial Venice: Piazzale Roma photo map for a bird's eye (or, more accurately, a satellite's) view of the square.
Getting to the airport from Piazzale Roma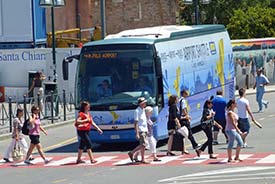 Venice is served by two airports: Venice Marco Polo (the main airport), and Treviso Airport (used by Ryanair and several other budget airlines). Buses to both airports leave from the center of the Piazzale Roma. See our Venice Airport Buses article for details.

Alternatively, you can hire a four-wheeled land taxi, but the fare will be much higher (and the trip won't be any faster) than with the bus. Land taxis are also useful if you're transporting heavy luggage to the cruise terminals. Look for cabs at the taxi rank on the tree-lined side of the square.
Next page: Parking, baggage storage
---
---
---
The premier travel-planning site
for Venice, Italy since 1997

---

Too many bridges, too little time?
Choose from handpicked Venice hotels (in all price ranges) within 0, 1, or 2 bridges of airport buses, taxis, trains, cruise piers, and airport-boat stops. We show maps, directions, booking links, and hotel Web sites.
» Click for easy-to-reach hotels
---
---
Venice for Cruisers:

---

Need a car in Europe?
Auto Europe guarantees the lowest rental rates for standard cars, sports cars, SUVs, luxury cars, chauffered sedans, and RVs. Its Web site also has driving information for 38 countries.
If you live outside the EU, a tax-free Renault or Peugeot tourist lease can be cheaper than renting. Minimum driver age is 18, there' s no upper age limit, and rates include insurance. See: Short-term car leasing.
---
Our blogs:

---