Venice Hostels, Convents,
and Camping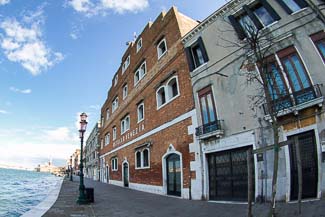 ABOVE: The Generator Hostel, a.k.a. the Ostello Venezia, is on the island of Giudecca.
Hostels
Generator Hostel Venice (Ostello Venezia) veniceforvisitors.com
This stylish design-themed hostel in a renovated grain warehouse is a bargain (except for the waterbus fare), and our directions make it easy to reach.
Camping
Camping Fusina
This campground is on the mainland, to the south of Mestre and Marghera. It offers campsites, hookups, cabins, caravans, a restaurant-pizzeria, a laundromat, and more. You can leave your car and take the No. 16 boat from the campground to central Venice in 15 minutes.
Camping Jolly delle Querce
Convenience is a big selling point for this campground near the A4 motorway in Marghera, where frequent buses run to Venice's Piazzale Roma from a stop nearby. Facilities include mobile homes, bungalows, RV connections, a grocery store, and a bar-restaurant.
Camping Miramare
This campground near the Punta Sabbioni ferry landing has bungalows for non-camping families who want a resort vacation on a budget.
Camping Scarpiland
If you're touring Italy by camper or motorhome, investigate this luxury campground with a beachfront location on the Adriatic. It's across the Lagoon from Venice, but you can reach the city by boat.
Sant'Angelo Village
Tent pitches, bungalows, caravans, and apartments are available at this family-oriented tourist park. It's near an Adriatic beach with a sailing school and boat rentals.