In past years, we cruised twice on Silversea's Silver Whisper: once in the Mediterranean, and again in Northern Europe. We discovered, to our pleasure and relief, that one needn't be an heiress from the East Hamptons or an oil oligarch from Moscow to fully enjoy Silversea's unstuffy and bling-free style of luxury cruising. And so, when the opportunity arose in 2012 to write about a Mediterranean cruise aboard Silversea's then-newest and largest ship, Silver Spirit, we were happy to accept the invitation.

We embarked in Lisbon on April 26 and got off the ship nine days later in Monte Carlo. Along the way, we visited the Spanish ports of Cádiz, Málaga, Palma de Mallorca, and Port Mahon (Menorca), followed by visits to Alghero (Sardinia) and Ajaccio (Corsica).

Like other Silversea voyages, ours was a one-of-a-kind port-intensive itinerary that attracted cruisers from all over the world. (On our cruise, about 40 percent of the passengers were from the U.S. and Canada, with the rest drawn from Europe, Africa, Asia, Australia and New Zealand, and South America).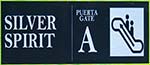 In this 10-page illustrated review, we'll describe the ship, accommodations, dining, entertainment, shore excursions, and other aspects of our cruise. We'll also help you determine whether a Silversea cruise is a good match for your tastes and budget.
To learn more about Silver Spirit and what it's like to cruise with Silversea, please continue to page 2 of this article. Also see our 56-page Silver Spirit cruise diary and photo gallery, which includes several hundred captioned photos of the ship and our ports of call.