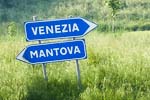 La Bella Vita's six-night itinerary takes the ship from Venice to Mantua, or--in alternating weeks--from Mantua to Venice. We'll describe the itinerary in the Venice-to-Mantua direction, since that was the route of our voyage.
Please note:
Itineraries are subject to change without notice, depending on water levels and other factors. During our cruise, the River Po was flooding in places, so--after leaving the Venetian Lagoon--we mostly traveled in canals that ran parallel to the Po, and our moorings sometimes deviated slightly from the published locations.

The direction of the cruise (Venice to Mantua, or Mantua to Venice) may not be known at the time of booking, and in any case, it's also subject to change. Our advice: Don't worry about it, because you'll see the same sights in both directions.

The itinerary below was accurate when we cruised on La Bella Vita in May, 2013. Cruise details may vary from year to year, or even from sailing to sailing. (For example, some departures feature golf and other special themes.)
Day 1 (Sunday):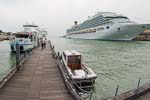 Meet your tour guide and fellow passengers at the NH Laguna Palace Hotel in Venice's mainland suburb of Mestre at 2:30 p.m. You'll be transferred to the ship's mooring in Venice by van or car. If you're already in Venice, as we were, you can go directly to the ship. (We were told to be at Berth 107 in the Marittima cruise basin by 3:30 p.m.)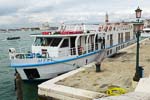 After embarkation, La Bella Vita will sail up the Giudecca Canal to the waterfront just above the Piazza San Marco, where it will moor along the waterfront by the Naval History Museum. Next comes a walking tour of the Castello district. (During our walk, we had a drink and traditional snacks at a Venetian bar.)
Following a leisurely dinner, you'll have time to go ashore. The Piazza San Marco is only about 10 minutes on foot from the barge, and Venice's waterfront is a delightful place for an evening stroll.
Day 2 (Monday):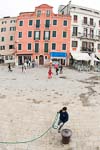 In the morning, you'll be taken on a walking tour of the Castello district, visiting neighborhoods that are off the usual tourist routes. (We paid a visit to the Church of San Pietro, Venice's former cathedral, followed by an hour or so in the Naval History Museum.)
After lunch, La Bella Vita will leave Venice and cruise through the Venetian Lagoon to Alberoni, where--in good weather--you'll have a chance to go biking or walking. We opted for the latter, walking across the narrow isthmus to Alberoni's beaches and sand dunes on the Adriatic Sea.
Day 3 (Tuesday):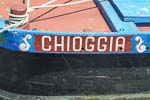 Early in the day, La Bella Vita will cruise past the town of Pellestrina (with a free but optional bicycle excursion along the seawall) and on to Chioggia, a large fishing and resort town near the southern end of the Venetian Lagoon. In Chioggia, you'll have a guided walking tour of the fish market, a local church, and Chioggia's historic center (which is often described as a "little Venice" because of its palazzi and canals).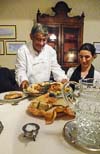 Meanwhile, La Bella Vita will be in the Adriatic Sea, following the coast to the Po River. (The barge isn't licensed to carry passengers in the open sea, so the shore excursion is perfectly timed.)
After rejoining the barge, you'll cruise through a nature reserve to Taglio di Po. Along the way, you can use binoculars--available in La Bella Vita's saloon--to watch flamingos and herons from the sun deck.
In the evening, you'll go ashore for cocktails and dinner at Ca' Zen, a 17th Century country house where Lord Byron wrote poetry and and had an affair with the Contessa Teresa Guccioli.
Day 4 (Wednesday)
In the morning, your cruise is likely to include a visit to the National Archaeological Museum and a walking tour of Adria.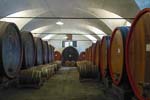 This will be followed by lunch, cruising on the river, and an excursion to the 17th Century Villa Widmann Borletti for a tour of the gardens and a wine tasting in the cellars of Il Dominio di Bagnoli.
Day 5 (Thursday)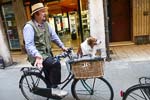 After breakfast, you'll head for Ferrara: a university city of Renaissance buildings, medieval streets, pedestrian-friendly squares, and bicyclists of all ages.
In the afternoon, you'll cruise up the Po toward Mantua (in Italian, "Mantova"), the final destination on your itinerary.
Day 6 (Friday)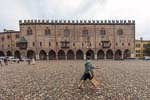 If you're lucky, you'll start your day at a mooring in the lovely city of Mantua. We weren't so fortunate: Due to high water levels, we had to moor near Governolo, downstream from Mantua, and drive into the city.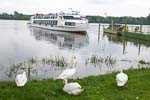 From 1328 until 1739, Mantua was ruled by the Dukes of Gonzaga, who built themselves a vast Palazzo Ducale (said to have more rooms than Buckingham Palace) that you'll visit during a city walking tour.
Mantua is renowned as a city of lakes, and your visit will include a journey on an excursion boat.
The day will end with the Captain's Farewell Dinner on La Bella Vita. (Leave your tuxedo or ball gown at home: Even on the most luxurious barge cruise, there's no need to overdress.)
Day 7 (Saturday)
After breakfast, you'll be driven back to Mestre (near Venice) and dropped off at the NH Laguna Palace Hotel.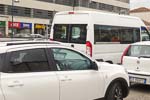 At the end of our cruise, our drivers (two crew members) went above and beyond the call of duty: They detoured to the Mestre Railroad Station for one couple, took several other passengers to the NH Laguna Palace Hotel, and drove the rest of us across the 4-km (2.5-mile) road bridge to Venice's Piazzale Roma.
Tip:
View our day-by-day cruise photo diary for a detailed report on our 6-day journey from Venice to Mantua.

To get an overview of the cruise's itinerary, with labels for destinations along the way, see our large satellite map (which works best with a high-speed Internet connection).