| | |
| --- | --- |
| "Yes," if: | Maybe not, if: |
| You'd love sleeping in a cozy cabin on a rich friend's yacht. | You'd prefer the Emperor's Suite on a megaship. |
| You dream of flying by private jet. | You dream of flying first class on a 747. |
| Your ideal hotel is an upscale B&B. | Your ideal hotel is a luxury resort. |
| When you dine out, you choose intimate restaurants without dress codes. | When you dine out, you choose large restaurants where le smoking is de rigueur. |
| At lunch and dinner, you enjoy being surprised by the chef. | At lunch and dinner, you want to choose from a menu. |
| When cruising, you enjoy sitting on deck and watching the scenery or reading a good book. | When cruising, you'd rather spend your time in the spa, the casino, and the swimming pool. |
| When you leave your cabin, you don't bother to lock the door. | Before you leave your cabin, you reprogram the combination on your safe. |
| When you're on vacation, you want to relax. | When you're on vacation, you want to keep busy. |
What makes barge cruising special: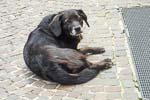 A cruise on a hotel barge is all about relaxation, slow-motion sightseeing, and attentive but unpretentious service. (If you require spa treatments or butlers, you aren't likely to be happy on a barge.)
Your fellow passengers may be doctors, lawyers, business people, schoolteachers, or retired civil servants. Regardless of income or background, they're likely to be congenial, because misanthropes and show-offs aren't attracted to barge cruising.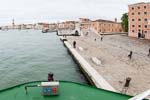 For us, one of the greatest features of La Bella Vita was being able to step off the ship in Venice like the owners of private yachts that moor along the waterfront above the Piazza San Marco. When we returned to the barge after a nighttime walk, we were greeted by Captain Rudy, who'd kept the gangway open for us. It was an altogether different experience--not necessarily better, but different--from ordinary cruising.
Fares, more information, and bookings: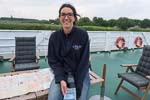 A cruise on La Bella Vita isn't cheap: In 2014, the per diem (daily rate) starts at US $640, with supplements for golf and other themed cruises. On the plus side, La Bella Vita's rates are all-inclusive, except for tips. You pay nothing extra for drinks, wines, or shore excursions.
Another option is a whole-boat charter, which will allow you to have a private barge vacation with your family or friends. Charter rates depend on the number of guests: The more passengers, the lower the cost per person.
For more information--including current rates, itineraries, brochures, and videos--see the La Bella Vita pages at the European Waterways Web site, gobarging.com. (European Waterways also a Facebook page, a Twitter page, and a YouTube channel.)
Tip: If you're cruising on La Bella Vita, spend at least a few days in Venice before or after the cruise. For trip-planning advice, see our Venice for Visitors site, which has provided unbiased information for travelers to Venice since 1997.