La Bella Vita Barge Cruise Photos
From: La Bella Vita Barge Cruise Review
Text by Durant Imboden
Most photos by Cheryl Imboden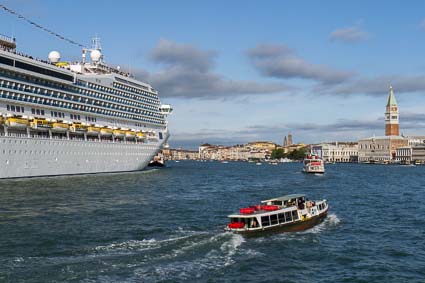 ABOVE: A view of Venice, Italy from cabin no. 2, "Canaletto," while La Bella Vita was moored above the Piazza San Marco near the Naval History Museum. A passing cruise ship, Costa Magica, is on the left. (The boat in the foreground is an ACTV public water bus.) In the distance, you can see the Campanile di San Marco and the Doge's Palace.
---
In the following pages, you can enjoy a day-by-day photo diary of a cruise from Venice to Mantua on a European Waterways hotel barge, La Bella Vita. (See our illustrated cruise review if you haven't already read it.)
Each page has multiple photos with captions. To get started, click "Next page" or use the navigation menu below.