Holland America Line
ms Rotterdam Photo Gallery
From: ms Rotterdam Cruise Review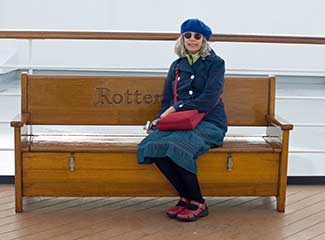 At sea (ms Rotterdam)
Although we recognize the value of port-intensive cruises (which we've written about in our article, "Tour Europe by Ship"), we'll confess that ships and sea days are our favorite aspects of cruising.

Give us a cool, windy day when it feels like we're crossing the North Atlantic on a classic ocean liner, and we won't care if we're on our way from Venice to Istanbul or from Harwich to the Hook of Holland. (The photo at the top of this page was taken on ms Rotterdam's Deck 9 in mid-July, but Cheryl is managing a smile despite her autumnal wardrobe.)
In this section of our Rotterdam photo gallery, we'll show you random pictures of the ship and its amenities--most of them taken by us while the ship was at sea, and a few from Holland America Line's library of press images.
Note: The bench in the photo above is one of many teak benches scattered around ms Rotterdam's open decks. Such benches, which evoke memories of steamship days, are a traditional feature on Holland America Line's ships.
---