ms Rotterdam Cruise Review
Our in-depth review of a Holland America Line cruise from Rotterdam to Scandinavia, with related articles and a photo gallery.
Archived Review
---
July, 2020 update:

ms Rotterdam has been sold to Fred. Olsen, a UK cruise operator, and will now sail under the name Borealis.
---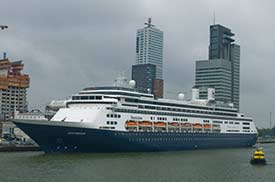 ABOVE: HAL's ms Rotterdam at the Rotterdam Cruise Terminal. (The photo was taken from the Erasmus Bridge as we walked from our hotel to the ship on a rainy, windy day.)
By Durant Imboden

Rotterdam is a name with great symbolic meaning for Holland America Line: HAL was founded in 1873 as the Dutch-America Steamship Company. Under that name and as Holland-Amerika Lijn, it offered transatlantic passenger service between Rotterdam and New York for a hundred years.
Over the decades, the line has had six ships named Rotterdam, including Rotterdam V (which is now a floating museum in the city of Rotterdam) and the ship featured in this review: the ms Rotterdam VI, which was built in 1997 and is currently the flagship of HAL's 15-ship fleet.
In July, 2009, we boarded ms Rotterdam for a roundtrip "Scandinavian Impressions" cruise from Rotterdam, Netherlands with port calls at Helsingborg (Sweden), Copenhagen, and Oslo.

Our 7-day, 6-night cruise was unusual not only because it started and ended in Holland America Line's historic home port, but also because it may have been the most European HAL cruise to date: At least 95 percent of the passengers were Dutch, and "Goedemorgen" or "Goedemittag" was a more common greeting than "Howdy," "Hi there," or "How ya doin'."

In our Rotterdam coverage--which includes a cruise photo gallery and several related articles--you'll learn about the ship, our itinerary's ports of call in Scandinavia, what to expect from a European cruise with Holland America Line, and what happens behind the scenes on a 1,404-passenger cruise vessel.
To get started, continue to page 2 or use the navigation links below.