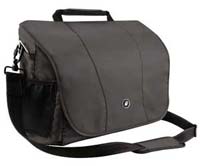 ABOVE: The PacSafe CourierSafe 100 has a layer of steel mesh and a slashproof cable strap. (See PacSafe link below.)
General information
Traveler's Checklist
The U.S. State Department gives basic tips on avoiding problems overseas. Also see the department's Country Information.
Foreign and Commonwealth Office: Travel & Living Abroad
Some experts think the British government's warnings and advice on travel in 200+ countries are less tainted by politics than their American equivalents.
Security products
Magellan's
Passport pouches, money belts, personal alarms, and tamperproof zipper closures are just a few of the security items at Magellan's Travel Supplies.

PacSafe
This U.S.-based company makes day packs, courier bags, and other products that incorporate a protective layer of steel mesh (see inset photo). You can also buy the original PacSafe product, a flexible and lockable cage of steel mesh that can be used to protect an existing backpack. Other products include a portable "TravelSafe," slashproof shoulder straps, purses, neck pouches, and a photo-gear insert for PacSafe's secure duffel bag.
(Note: The links above are provided for information only; we don't get a commission on any sales.)
---
---
Photos copyright © PacSafe. Used by permission.