Hyatt Regency London · The Churchill
Page 2
Continued from page 1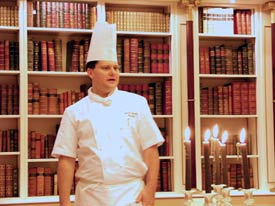 ABOVE: James Pressley, The Churchill's head chef, describes the whys and wherefores of each dish at a private luncheon in The Library.
Restaurants at The Churchill
Hyatt Regency London · The Churchill has several dining options:
The Terrace on Portman Square, off the main lobby, an indoor garden terrace with two life-size trees. The restaurant is open seven days a week from 7 a.m. to 11 p.m. It serves breakfast, lunch, and dinner, plus afternoon tea with more than 70 varieties of tea.
Locanda Locatelli, which opened in 2002 and earned its first Michelin star in 2003. The kitchen is under the direction of Giorgio Locatelli, one of Britain's top Italian chefs and a co-star of the BBC's Tony and Giorgio cooking show.
The Churchill Bar & Cigar Divan, which specializes in cigars, malt whiskies, and traditional English cooking.
The hotel also has a 24-hour room service menu, which will come in handy if you're a jetlagged overseas visitor who feels the urge for a meal in the middle of the night.
During our stay, we attended a "preview of coming attractions" lunch under the supervision of James Pressley, The Churchill's head chef. The meal, which was as beautifully presented as it was tasty, included such dishes as double rib of salt marsh lamb, hand-dived Scottish scallops with Sevruga caviar, pink gooseberry and greengage sorbets, and an odd-sounding but wonderful dessert of roasted black-peppered pineapple with caramel sauce and fried pastry cream.
Each dish was introduced by Mr. Pressley, a man who's obviously passionate about his art and would make a great dinner guest (especially if he could be persuaded to do the cooking).
For more information on Hyatt Regency London · The Churchill, or to inquire about a reservation, see the hotel's official Web site.
---
---