Hotel Altis Grand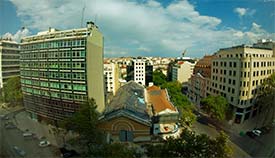 ABOVE: The view from a room in the Hotel Altis Grand, a five-star hotel in a modern business and residential district of Lisbon.
By Durant Imboden

On a visit to Lisbon several years ago, I stayed at the Hotel Altis Grand, a five-star hotel that opened in 1973. The hotel still has a 1970s period flavor, and I don't mean that as a criticism: It was built to a high standard and has been well-maintained over the past three and a half decades, with occasional renovations to keep the guestrooms and public facilities up to snuff.
The Altis Grand is located on the Rua Castilho in Lisbon's modern shopping and business district just west of the Avenida da Liberdade. It's within walking or jogging distance of several parks, and you can easily reach the downtown tourist areas (including the waterfront) by metro, bus, or taxi.

The hotel's 303 rooms and suites are large, comfortable, and well-equipped, although you'll need to pay extra for broadband Internet access, and traveling technophiliacs may long for more electrical outlets. (Tip for thrifty travelers: According to a fellow guest, the nearby Parque Mayer has free Wi-Fi access, so look for an empty bench if you're unwilling to pay for broadband.)
In my opinion, the two best features of the Hotel Altis Grand are the lobby and the breakfast buffet:
The lobby (which the Altis Grand calls the "Galeria") is large and glitzy in a 1970s way, with a grand piano, a fountain, and comfortable sitting areas with sofas and easy chairs.

The breakfast buffet is first-rate, with a wonderful selection of Portuguese breads and cakes. (Don't be afraid to indulge your sweet tooth: Pretend you're a native and belly up to the pastry bar.)
The Altis Grand has a full complement of restaurants and bars, most notably the Grill D. Fernando (which offers a visual panorama of the city) and the Bar S. Jorge (which also has stunning views). A health club with a heated pool, a gym, and spa services is on the premises.
For more information, including rates, visit the hotel's Booking.com page.
---
---