Lisbon
Travel and Tourist Information
By Durant Imboden
Lisbon has been one of my favorite cities since 1952, when I spent a summer in neighboring Estoril. The Portuguese capital has changed over the years, and a building boom has contributed to urban sprawl since Portugal joined the European Union in 1986.
Modern buildings tucked into downtown streets can be jarring to travelers who remember Lisbon in the days when the city was crumbling but prettier.
Still, in the words of Lonely Planet Portugal, "Add today's cultural diversity together with a laid-back ambience and an architectural time-warp, and you have one of Europe's most enjoyable cities."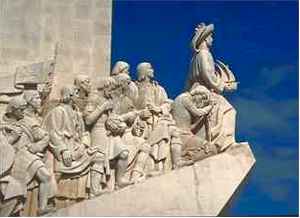 A Portuguese blend of Rome and San Francisco
The physical setting alone makes Lisbon an appealing destination. The city is built on hills overlooking the Tagus River (Tejos in Portuguese) where the river meets the Atlantic Ocean.
The climate is benign--like San Diego's, but less dry--and the older parts of the city are rich with murals of azulejo tiles, art nouveau buildings, sidewalks paved with decorative patterns of tiny black and white stones, public staircases leading steeply upward through ancient neighborhoods, double-decker buses, and funicular tramways where you may see a cat hop aboard and get off at the next stop.
A panoply of sights and sounds
Museums and monuments are other popular attractions. No visit is complete without a tour of the Jerónimos monastery, where ropes and other maritime themes are carved into stone.
Take time to explore the Moorish Castelo de São Jorge, which looks like a fortress on the outside but is a delightful place of gardens, towers with scenic views, ponds with swans and peacocks, and other attractions within its walls.
Don't miss the Torre de Belém, and spend an hour or two at nearby museums like the Museo Nacional des Coches (coaches worthy of Cinderella), the Museo de Marinha (boats and naval exhibits), and the Museo de Arte Popular (folk arts, exhibited by region, and a "must see" warm-up for shoppers interested in handicrafts).
Finally, two newer attractions--the stunning Museu do Oriente and the world-class Oceanário de Lisboa in the modern Parque das Nacões--are also worth visiting if you're in Lisbon for more than two or three days.