Europe > Portugal > Northern Portugal Index
Northern Portugal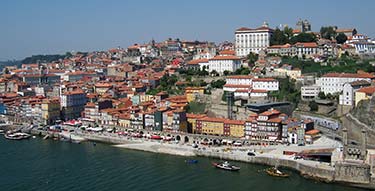 ABOVE: Porto and the Douro riverfront.
Index of travel articles about Northern Portugal
Porto (Oporto)
Portugal's second-largest city is also the gateway to Northern Portugal and the port wine region. The city occupies a stunning site on granite hills overlooking the Douro River, and the Atlantic Ocean is just a Metro ride away.
Cálem Port Wine Lodge, Porto
In Vila Nova de Gaia, across the river from Porto's old town, you can see how Port wine is made and sip the finished products.
Quinta Nova de Nossa Senhora do Carmo
Not far from Pinhão, in the heart of the Douro Valley, the Amorim family has created an award-winning "wine hotel" and winery amid 85 hectares or 210 acres of vineyards. During harvest season, you can pick and crush grapes with the locals.
Hotel Rural Casa dos Viscondes da Várzea, Lamego
Portugal's most celebrated mother has reclaimed her family's Douro Valley wine estate and converted the 17th Century manor house into a delightful country hotel.
---
Also see (in Central Portugal):
Buçaco (Bussaco), Portugal
This beautiful forest has 1,400 years of history, and its former royal palace may be Europe's least expensive grand hotel.
Conimbriga Ruins
When you're driving south toward Lisbon, don't miss the largest and most impressive Roman archaeological site in Portugal.