Europe > Portugal > Quinta Nova de Nossa Senhora do Carmo
Quinta Nova de Nossa Senhora do Carmo
A hotel, restaurant, and winery in Portugal's Douro Valley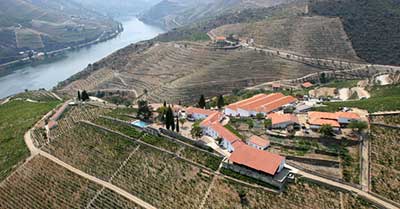 ABOVE: An aerial view of the quinta, showing the hotel, the winery behind, the vineyards, and the Douro River.
By Durant Imboden

Northern Portugal's Douro Valley is the oldest demarcated wine region in the world. Vintners along the Douro River have produced wine for more than 2,000 years, and the region has been on the UNESCO World Heritage List since 2001. Its terraced vineyards have produced grapes for Port wine since the 18th Century, when many of its traditional quintas, or wine estates, were created to meet British demand for fortified Portuguese wines.
One such estate is Quinta Nova de Nossa Senhora do Carmo, which occupies a hillside site that runs about 1.5 km (1 mile) along the banks of the Douro River near the waterside villages of Ferr"o and Pinh"o. Quinta Nova's cellars date back to 1764, and its restored manor house is also from the 18th Century. Today, Quinta Nova is owned by the Amorim cork and investment dynasty, who have turned it into the country's first "wine hotel" and a state-of-the-art winery under the management of Luisa Amorim.

As a visitor to Quinta Nova de Nossa Senhora do Carmo, you can sample estate-bottled wines and local cuisine in the restaurant, stay overnight in a room overlooking the vineyards, pick grapes during the harvest season, and explore the surrounding countryside on foot or by boat, train, helicopter, or minivan.
Rates are surprisingly reasonable for a hotel of this caliber, and the authentic Portuguese rural atmosphere is hard to beat--especially if you're a wine aficionado who'd like to sample life on an historic quinta amid 85 hectares or 210 acres of Class A grapevines.
Next page: Hotel and restaurant
---
---
---
Aerial photo and logo copyright © Quinta Nova de Nossa Senhora do Carma, Lda.