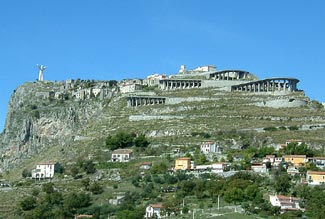 Maratea - Maratea Superiore
The road to Maratea Superiore, the Basilica of San Biagio, and the Statua del Redentore (Christ Statue) climbs Monte San Biagio in a series of hairpin curves. Several of the tight switchbacks are supported by concrete stilts.
The drive to the summit can be intimidating if you're nervous about heights or blind curves, but the pavement is in good condition and the road is well-protected by walls and guardrails.
You can reach the ruins and the Redentore statue from Maratea's historic center. Look for the road that goes uphill behind the parking lot of the Locanda delle Donne Monache hotel. If you're coming from the Porto di Maratea, Fiumicello, or Marina di Maratea, you can turn onto the road for the statue and the Grand Hotel Pianeta Maratea before you enter the old town.
---
---