The Ludwig II Musical
Ludwig II: Longing for Paradise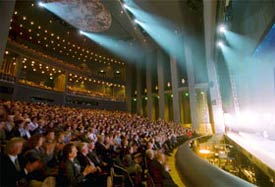 ABOVE: Interior of the Musical Theatre Neuschwanstein.
---
Archived article
Update: The musical, Ludwig II: Longing for Paradise, is no longer running. The Festspielhaus in Füssen in Allgäu now stages operas and other productions and continues to offer gastronomy at various price levels in the theatre's restaurants.
---
By Durant Imboden
Ludwig II: Longing for Paradise bills itself as "the only musical in the world which is performed at its original setting." The show, which is reminiscent of an opera, takes place at a specially constructed lakeside theatre below the fairy-tale castle of Neuschwanstein. It tells the story of Bavaria's "Mad King," who came to power at the age of 18 and spent most of his adult life building extravagant castles until he was declared insane, deposed, and drowned at the age of 41.
Contrary to what you might expect, the Ludwig II Musical isn't just a show for tourists: It attracts large numbers of Bavarians and other Germans who grew up hearing Ludwig's legend, and who still debate whether the flamboyant king committed suicide or was murdered by his political enemies. More than half a million tickets already had been sold before the show opened in 2000--mostly to Germans who were willing to pay Broadway prices for what may be the most lavish theatre production ever staged in Germany. And on the September evening when I attended Ludwig II: Sensucht nach dem Paradies, most of the well-dressed theatergoers appeared to be from Germany or nearby Austria.
Still, foreigners aren't ignored: Large supertitles above the proscenium translate the dialogue into foreign languages (including English), and the story is easy enough to follow if you know your history or have read the one-page plot summary.
The theatre
Next: Musical Theater Neuschwanstein
---
---