Europe > Germany > Bodensee > Boats & ferries
Bodensee (Lake Constance) Excursion Boats and Car Ferries

ABOVE: The Swiss lake steamer Zürich on the Bodensee. INSET BELOW: A boat to Mainau, bicyclists boarding a steamer in Friedrichshafen, and the car ferry Euregia.
By Durant Imboden
Lake Constance, a.k.a. the Bodensee, is the third-biggest lake in Europe, and--as you might expect--it's well-equipped with excursion boats and ferries for residents and visitors.

The "White Fleet" of lake steamers makes it possible to travel easily from point to point along the lake, or to spend pleasant hours of sightseeing while your boat picks up and drops off passengers.
Alternatively, you can book lunch, dinner, or music or dance cruises, some with special themes (such as an "Country-Western Ferry" or a "Fondue Ship" culinary excursion).
Other boats cruise into the neighboring lakes of Untersee and Geller See.
You can even charter a boat for a wedding and reception.

Car ferries serve two routes between the south and north sides of Lake Constance: the quickest and most frequent is from Konstanz to the resort village of Meersburg; the longest (with a 41-minute crossing) connects Romanshorn with Friedrichshafen, the largest town on the northern side of the lake and home to the Zeppelin Museum.
For more information on excursion boats and ferries, see "Bodensee (Lake Constance) Boat and Ferry Links" below.
Bringing a bicycle

Most boats allow bicycles. Declare your bike when you purchase a ticket, since you'll need a special ticket for your two-wheeler. (On some routes, day tickets are available.)
Bodensee (Lake Constance) Boat and Ferry Links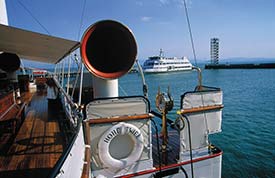 ABOVE: The restored steamer Hohentwiel in Friedrichshafen Harbor, with a Romanshorn-Friedrichshafen car ferry passing the breakwater.
Passenger boats
Bodensee-Schiffsbetriebe (BSB)
A consortium of German, Swiss, and Austrian passenger-ship companies offer scheduled service and themed excursions around the lake from spring through fall, using antique or modern boats. If you plan on spending most of your time on the Swiss side of the lake, see the German-language VSU site.
Der Katamaran
With a top speed of 40 km/h or 25 mph, these hourly passenger ferries connect Konstanz to Friedrichshafen in 48 minutes.
Hohentwiel
This vintage steamer was built in 1913, decommissioned in 1962, and given a new life in 1990 after major renovations. Today, it offers excursions from Friedrichshafen (some with meals, others with music or literature themes).
Car ferries
Konstanz-Meersburg
Ferries run 24 hours a day, 7 days a week.
Romanshorn-Friedrichshafen
Travel time on this route is approximately 40 minutes, and ferries run hourly from early morning until late evening on most days. (Click the "Fahrplan" links for timetables.)
Regional tickets and passes
Bodensee Ticket
Buy a one- or three-day Bodensee Ticket to enjoy unlimited regional transportation by train, bus, and ferry.
Bodensee Card Plus
This regional pass is valid on boats and some 160 local attractions. It's available in three- and seven-day versions.
2nd and 3rd inset & bottom photos copyright © Stadt Friedrichhafen.