Europe > Germany > Klimahaus Bremerhaven 8° Ost > Photos
Klimahaus Bremerhaven 8° Ost
Page 2
Continued from page 1
More Klimahaus photos

This model of the Klimahaus Bremerhaven 8° Ost shows the layout of the museum, which was built at a cost of 70 million euros.
The Klimahaus opened on June 27, 2009. Its science partners include the Alfred Wegener Institute for Polar and Marine Research, the Max Planck Institute for Meterology, and the German Meteorological Service.
---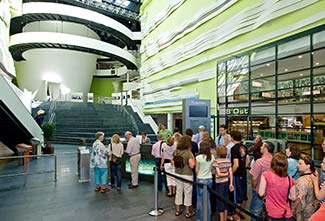 Your visit begins in the foyer, or lobby, on the main floor. (The multistory museum is fully accessible by guests in wheelchairs.)
---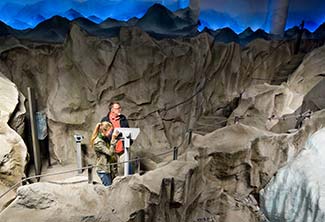 The largest section of the Klimahaus is the "Journey" section, which reproduces local climates and landscapes in nine locations along the 8th degree of longitude east. This photo shows visitors experiencing the refreshing air of an alp in Switzerland's Canton Uri.
---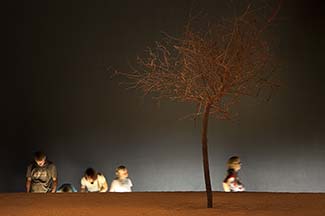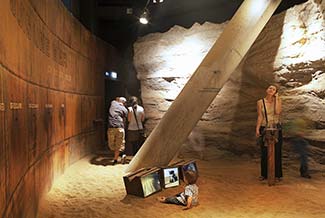 The synthesized weather in the Niger exhibit is hot and dry, with temperatures ranging up to 35° C or 98° F.
---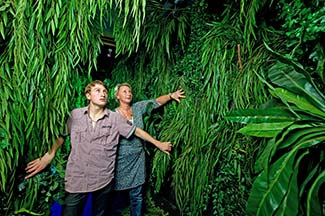 The Cameroon "rainforest by night" exhibit isn't scary, but watch your step--it's easy to stumble in the dark.
---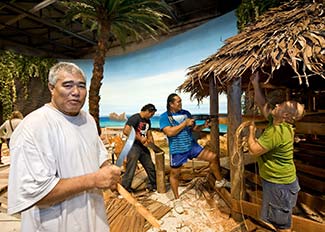 In the warm and humid Samoa exhibit, you can watch Foua Tolua (front), his son, and his cousins building a tropical dwelling called a fale.
---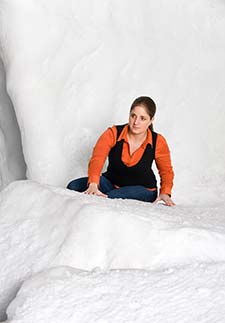 You'll feel as if you'd stepped out of a sauna and into a refrigerator when you reach Antarctica.

---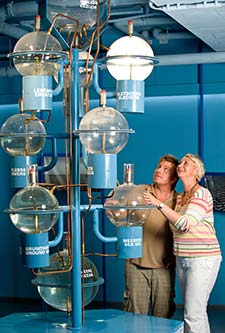 In the "Elements" section of the Klimahaus Bremerhaven 8° Ost, you'll get a chance to play with water, air, fire, and earth.
---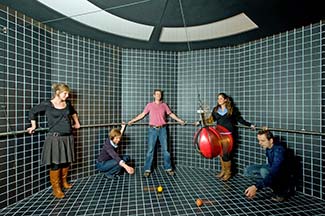 No, this isn't a scene from The Matrix: It's a room where you can witness the Coriolis Effect, which inspired the Australian toilet-flushing scene in the "Bart vs. Australia" episode of The Simpsons.
---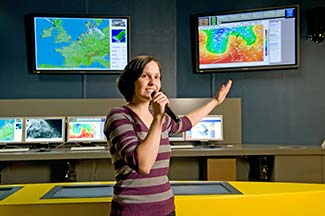 You may not be a meteorologist, but you can play one on closed-circuit TV in the Weather Studio at the Klimahaus.
---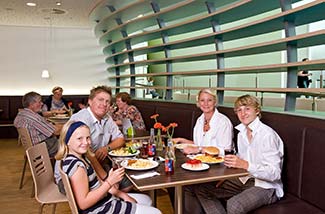 After touring the world's climate zones, you can settle into the heated or air-conditioned Klimahaus restaurant for a Bremerhaven-style meal.
---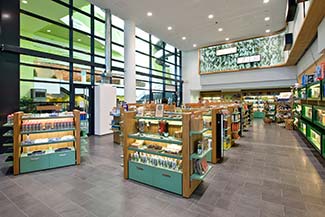 The climate in the museum shop is always right for buying toys, scientific gadgets, clothing, books, and other gifts or souvenirs.
Back to: Klimahaus Bremerhaven 8° Ost - Introduction
---
---
---
Interior photos: Jan Rathke, copyright © Klimahaus Bremerhaven 8° Ost.