Europe > Germany > Cars > Mercedes-Benz Classic Center
Mercedes-Benz Classic Center
When you're ready to restore your vintage Mercedes (or to buy an already-restored collector's car), contact the M-B Classic Center in Stuttgart, Germany.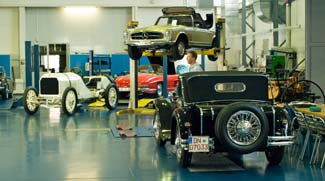 ABOVE: Car restoration in the Werkstatt. INSET BELOW: A vintage Mercedes-Benz from the Classic Center's collection.
By Durant Imboden

Stuttgart, Germany is a city that takes pride in its automotive heritage, as evidenced by the Gottlieb Daimler Memorial and the Mercedes-Benz Museum, both of which are essential stops on any car enthusiast's trip through Germany.
But history means more than places or institutions: Material culture plays a vital role in preserving the past, and the Mercedes-Benz Classic Center in Fellbach (a suburb of Stuttgart) serves as "a guardian of the brand's tradition" by restoring historic cars and supporting owners of vintage Mercedes-Benz automobiles.
The Mercedes-Benz Classic Center has several functions:
It restores cars for the Mercedes-Benz Museum, other car museums, and private collectors;
It supplies parts (and, in some cases, makes custom parts) for "oldtimer" cars, meaning vehicles that are more than 20 years old;
It buys, sells, brokers, and even rents Mercedes-Benz classic cars;
It supports "Classic Partners" such as dealers, independent workshops, and Mercedes-Benz clubs around the world.
Although the Classic Center isn't a tourist attraction per se, it welcomes visits by Mercedes-Benz owners, mechanics, enthusiasts, and prospective buyers of classic cars and parts.
---
Visitor information: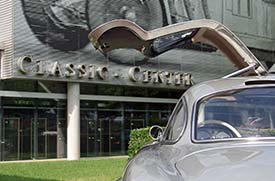 ABOVE: The open door of a Mercedes-Benz 300SL Gullwing frames the entrance of the Classic Center in Fellbach.
The Mercedes-Benz Classic Center is open Monday to Friday from 9 a.m. to 5 p.m. except holidays. For more information, see the Classic Center's English-language Web site (links below) .
Note: The Classic Center has a gift shop with Mercedes-Benz car models, driving accessories, clothing, etc., so you needn't go home empty-handed if you've resisted the temptation to buy a classic car.
The Classic Center on the Web
Mercedes-Benz Classic Center
Get up-to-date information about "the world's most important rendezvous for enthusiasts and owners of classic cars."
If you're shopping for a classic Mercedez-Benz or parts in the USA, try the Classic Center in Irvine, California.
---
More information from Mercedes-Benz:
Random facts and figures
More than 23,000 Mercedes-Benz car enthusiasts showed up at the Classic Center during its grand opening weekend in May, 1993.

Mercedes-Benz defines "oldtimer" cars as vehicles that have been out of production for 20 years or more. (The company has been building cars since 1886.)

The company has a satellite Classic Center in Irvine, California, and is planning a third center in Shanghai, China.
Parts and manuals
Currently, some 40,000 parts are available from the Classic Center. (36,000 can be shipped from stock; parts for extremely old or rare cars can be made to order, using drawings and other data from the corporate archives.)

Every year, the Classic Center receives some 30,000 parts inquiries.

The Classic Center also supplies copies of hard-to-find parts lists, workshop handbooks, owners' manuals, technical data manuals, and maintenance booklets.
Restoration
The Classic Center buys, restores, and sells about 80 classic cars per year. (About 40 percent of the workshop's restoration work is for the Mercedes-Benz Museum and other clients within the company; 60 percent is for private owners.)

A typical restoration (for example, of a 600 Series sedan) might take one to 1Ĺ years and cost up to €750,000.

Restored cars have a three-year warranty. With proper care, a restored vehicle should last 50 years.

The Classic Center's workshop also restores Formula 1 race cars from the previous year. (F1 cars are considered "oldtimers" after just one season of racing.)

In its first 10 years of operation, the Classic Center did some 250 complete or partial car restorations. The largest job was a complete restoration of a W196 Streamliner racing car from 1954, which took five years.
Staff
Mechanics at the Classic Center are normally hired from within the company. The typical mechanic has 25 to 30 years of experience.

Classic Center mechanics have the authority to seek help from Mercedes-Benz's 7,000 master mechanics, apprentices, and engineers when they encounter problems with parts or materials. They're also able to consult with experts at Stuttgart's university without asking permission from higher-ups.
Souvenirs
Looking for something to take home? The Classic Center manufactures full-size working replicas of the Benz No. 1 Patent Motor Car from 1886. (The price was €64,000 when we last checked several years ago.)
---
More photos: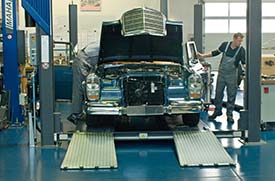 Two mechanics work on a Mercedes-Benz sedan from the 1960s at the Classic Center in Germany.
The company also has a Classic Center branch in Irvine, California. (I chatted with a German mechanic who'd worked in Irvine for a year on an exchange program.)
---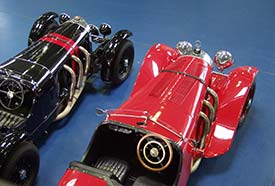 At any given moment, some cars at the Classic Center are likely to be undergoing restoration for the Mercedes-Benz Museum, which is located only a few kilometers away.
Other vehicles are restored for private collectors, for independent museums, or for sale to wealthy auto enthusiasts who visit the Classic Center's showroom.
---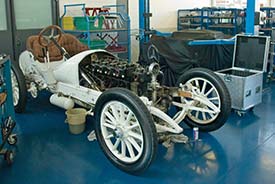 This Mercedes-Benz race car from the early years of the 20th Century was undergoing repairs during my visit.
---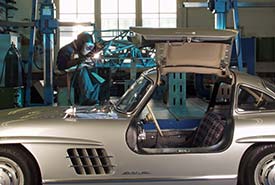 In this picture, a mechanic welds a tubular frame behind a 300SL Gullwing sports car.
---
---