ABOVE: Entrance of the Hotel am Kaisersall on Futterstrasse.
The three-star Hotel am Kaisersaal is across the street from Erfurt's historic Kaisersaal, an 18th Century ballroom that is now a cultural and conference center.
The hotel is ideally located on the Futterstrasse, just around the corner from the cafés and restaurants of the Wenigeplatz and the historic Krämerbrücke stone bridge.
Although the hotel's façade is centuries old, the interior is new and modern. The pleasant lobby has a small seating area with a good selection of German magazines, and there's a small bar attached to the reception desk where you can order a drink or a coffee. The lobby has two sets of glass doors: one facing the street (see above), and the other opening onto a parking lot in the courtyard.
Upstairs, the Hotel am Kaisersaal has 35 guest rooms, including two large rooms for families. Furnishings are functional and attractive, with large built-in wooden storage units and wooden beds that have duvets and down pillows.
For more information, including prices, see:
More photos: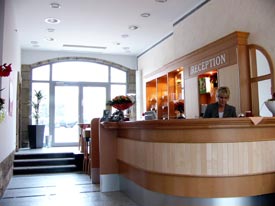 The Hotel am Kaisersaal's reception desk and bar.
---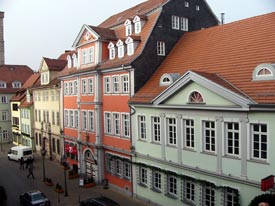 The view from my room overlooking the Futterstrasse.
---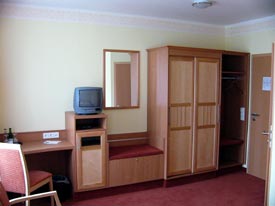 Desk and storage units. (When you enter the room, insert your keycard in the device just inside the door to deactivate the energy-saving system.)
---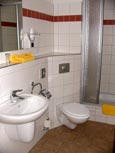 Bathroom with modern fixtures and shower stall.