Photos
From: Garmisch-Partenkirchen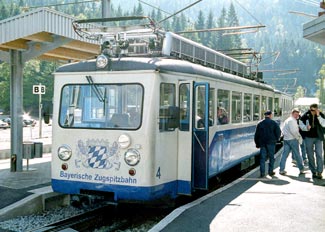 Zugspitze
A cogwheel train of the Bayerische Zugspitzbahn stops at the Eibsee station on its way from the Zugspitze Glacier Plateau to the center of Garmisch-Partenkirchen.
On its journey down the mountain, the train descends through a steep tunnel before emerging halfway down at the Riffelriss station and zigzagging down the hillside to the valley floor.
When you buy a roundtrip ticket from Garmisch or the valley to the Zugspitze, you can ascend and descend by cogwheel train and/or cablecar. See our Zugspitze transportation page for travel advice.
---
---