Europe > Germany > Garmisch-Partenkirchen
Garmisch-Partenkirchen
Travel and Tourist Information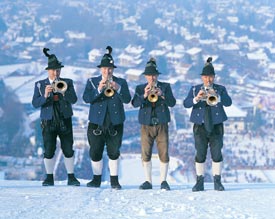 ABOVE: Garmisch-Partenkirchen's local brass make oompah in the Alps.
By Durant Imboden
Germany's largest alpine resort has a split personality, and not just because it consists of two towns that were merged for the 1936 Olympic Winter Games. Rather, it's because Garmisch-Partenkirchen is both a world-class ski resort and a summer vacation playground.
When the skiing finally stops in early May, the town has just over a month to prepare itself for a summer onslaught of hikers, mountain-climbers, cyclists, spa aficionados, folklore enthusiasts, and high-altitude sunseekers.
Garmisch-Partenkirchen has some 27,500 residents, but the daytime population may be closer to 50,000 on busy weekends when hotels are fully booked and daytrippers arrive from other cities in Bavaria by train or car.
Still, there's plenty of space for sportif folk and sightseers--ranging from the 73 km of marked ski pistes and 100 km of walking paths in the winter to more than 300 km of alpine trails in the warmer months.
Tourist activities are well organized. Factor in the convenience of reaching Garmisch-Partenkirchen from Munich or Munich International Airport, and it becomes obvious why Bavaria's "Olympic Village under the Zugspitze" is a big draw for German and international holidaymakers.
---
Where to stay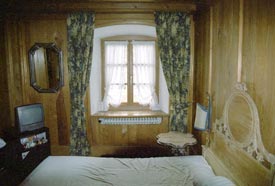 Garmisch-Partenkirchen and its neighboring villages have nearly 10,000 guest beds in some 1,500 accommodation facilities.
Hotels and inns come in all price ranges, from luxury establishments to one-star guesthouses. Many offer daily, weekend, or weekly rates with half- or full board.
A personal hotel recommendation:
The Atlas Grand Hotel is an historic inn that oozes Bavarian atmosphere, and it's conveniently located in downtown Partenkirchen.
The four-star hotel traces its roots to 1542, when a local monastery opened a tavern for travelers. It became a postal station in the 1600s, and the grandfather of the hotel's now-deceased senior chef, Otto Stahl, was the last innkeeper in Bavaria to hold the title of "Royal Postmaster."
The Atlas Grand certainly looks the part of an historic inn: Its façade is adorned with arches, wrought-iron signs, shutters, flowerboxes, and a row of Bavarian flags and banners.
Step inside, and you may feel that you're in a hunting lodge. The ground floor is a meandering menage of rooms with heavy archways, beamed ceilings, carved wood, iron chandeliers, grandfather clocks, and framed pictures from the last two centuries.
The older guest rooms upstairs are delightful. A few years ago, I stayed in room 24, overlooking the Ludwigstrasse, and it was like being inside Great-Aunt Waltraud's cedar chest. Every surface in the bedroom was covered with wood, from the beamed ceiling to the pine walls to the planked floor. The antique bedstead carried the wood theme through with an ornate carved headboard.
Other hotel possibilities:
The Atlas Grand's sister property, the Atlas Posthotel (three stars) has a history dating back to 1512, but it includes all the mod cons, including free Wi-Fi. The 44-room hotel also has four modern apartments (each accommodating up to four guests) in an annex nearby.
Most rooms at the Wittelsbacher Hof, a four-star "Swiss Quality" hotel within walking distance of the pedestrian zone, have private balconies with views of the Zugspitze. A heated indoor pool, sauna, and wellness center are on the premises.
The moderately priced Hotel Königshof is also in downtown Garmisch, where it offers free parking in a private lot.
For more hotels and other accommodations, check the discounted rates from our booking partner:
Private homes:
Prices for bed and breakfast typically start around €20 per person with shared bath. (Such Privatzimmer accommodations are popular with Germans, many of whom prefer staying with a family to booking a room in a hotel.) The tourist office can help you find a room.
Youth Hostel:
The Garmisch-Partenkirchen JH Youth Hostel is in Burgrain, about 3 km from Garmisch on the No. 3 or 4 bus line.
Camping:
The Garmisch-Partenkirchen Tourist Office lists seven campgrounds within commuting distance. The most convenient is Campingplatz Zugspitze in Untergrainau, at the foot of Germany's highest peak.
---
Transportation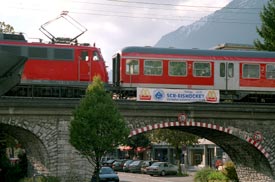 ABOVE: A train of the Deutsche Bahn arrives in Garmisch-Partenkirchen.
By train: From Munich Hauptbahnhof, the trip to Garmisch's Post/Bahnhof takes about 1 hour 15 minutes to 1 hour 40 minutes, depending on the type of train.
Direct trains leave at least once an hour from morning through early evening. If you're coming from Innsbruck, a direct train will take approxmately 1 hour 20 minutes. Plan your journey with the English-language Deutsche Bahn timetable.
By air. Munich International Airport is 120 km (75 miles) distant, and you can travel by rail from the airport terminal to Garmisch-Partenkirchen in just over two hours with one train change. Innsbruck Airport is 60 km (38 miles) away.
Plan your rail journey with the DB timetable, or get help from the DB service desk in the München Airport Center (which is connected to the airport terminals).
By car. Garmisch-Partenkirchen is 88 km (55 miles) from Munich by Autobahn and local roads. For a map and directions, see ViaMichelin.com.
Local transportation. The Garmisch-Partenkirchen area is well-equipped with bus lines, aerial cable cars, gondolas, and a cogwheel railway that runs from central Garmisch to Grainau, the Eibsee, and the Zugspitze (see our Zugspitze article).
Request obtain information on public transportation at the Tourist Office during your visit, or visit these German-language bus sites:
GAP (City Buses)
Use the interactive journey planner or download timetables for local bus lines.

DB Regio Bus Bayern
These bus lines serve towns and villages throughout the region.
---
Sports and recreation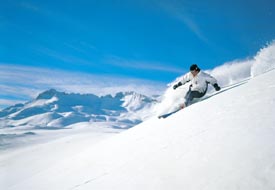 ABOVE: Skiing is Garmisch-Partenkirchen's main draw in winter. The town has six major ski areas with 38 lifts and 73 km of marked trails.
Winter sports. Skiing and snowboarding pull in the crowds during Garmisch-Partenkirchen's snow season, which normally runs from October until early May on the Zugspitze and into March at low elevations.
Six ski areas have 38 lifts and 73 km (46 miles) of marked downhill trails, including the Kandahar Run of World Cup fame. You can expand your options even more with day trips to neighoring Austria, or with freestyle skiing and snowboarding at the Fun Park and Half-Pipe below the summit of the Zugspitze.
Cross-country skiing is also popular, with nearly 100 km (69 miles) of prepared trails in the local valleys.
Other winter activities include skating at the five-rink Olympic Ice Sports Center, curling, sledding, and walking on 100 km (63 miles) of winter hiking paths.
Summer recreation. Nature and the outdoors are the main attractions during the warmer months. Some 300 km (188 miles) of marked trails connect Garmisch-Partenkirchen with forests, alms, mountain peaks, and attractions such as the Partnach Gorge or Partnachklamm and King Ludwig II's Schachen hunting lodge.
Golf, tennis, mountain biking, white-water rafting, kayaking, windsurfing, a rope course, minigolf, archery, hot-air ballooning, bowling, paragliding, and swimming are some of the other summer activities on Garmisch-Partenkirchen's summer menu.
Spectator sports. World Cup ski races, the International New Year's Ski Jumping competition, the Bavarian Sleigh Ride Competition, and the International Ice Skating Gala take place during the winter months.
---
Sightseeing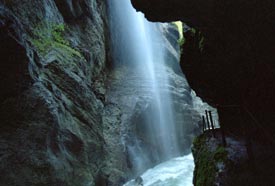 ABOVE: The Partnach Gorge or Partnachklamm attracts hikers and sightseers year-round. In winter, you can book a guided torchlight tour through the gorge.
Although Garmisch-Partenkirchen is known more for outdoor activities than for sightseeing, it does have a number of places to visit on a rainy day.
The historic churches of Martinskirche (Garmisch) and Pfarrkirche (Partenkirchen) are worth a peek.
The Werdenfelser Heimatmuseum, a regional history and folk museum, occupies a 17th Century house on the Ludwigstrasse in Partenkirchen.
The Richard Strauss Institute has a musical museum, a library, and multimedia terminals that celebrate the life of the late German composer. Performances of Strauss works are scheduled throughout the year.
In June, the Richard Strauss Festival offers concerts, symposia, master classes, and other events that are open to the public.
If your musical tastes run more toward zithers and accordions than Till Eulenspiegel, ask the tourist office about Bavarian folklore evenings during your visit.
Excursions
There are many other attractions that you can easily visit from Garmisch-Partenkirchen, either by car or by booking guided tours locally--among them, the Glentleiten Open-Air Museum in Grossweil, the Schlossmuseum Murnau, Linderhof Castle in Ettal, the Oberammergau Museum in Bavaria's Passion Play town, and the Violinmaking Museum in Mittenwald. If you have time for a day trip, head for the Neuschwanstein and Hohenschwangau castles in Schwangau, near Füssen.
Tip:

Some of the sites above are in German only, but you can translate with Google.
---
More information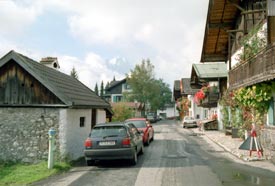 ABOVE: A residential street in Garmisch. (Many chalets like these have furnished apartments and rooms for tourists.)
Tourist office:
Garmisch-Partenkirchen Tourism
The tourist office's official Web site has information in German and English.
Related articles and photos:
Zugspitze germanyforvisitors.com
No trip to Garmisch-Partenkirchen is complete without a cogwheel-railway and cablecar ascent of Germany's highest mountain. Come for skiing, snowboarding, and spectacular year-round views of four countries.
Partnach Gorge - Partnachklamm germanyforvisitors.com
Hike safely on a stone ledge above a roaring river, or--in winter--take a guided torchlight tour past magical ice and snow formations.
Garmisch-Partenkirchen Photos germanyforvisitors.com
Enjoy 65 captioned pictures of Garmisch-Partenkirchen, the Partnach Gorge, and the Zugspitze. (Many of the captions include Web links.)
---
---