Erfurt Photos
From: Erfurt, Germany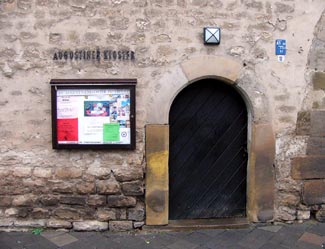 Augustinerkloster
The Augustinian Monastery in Erfurt is one of the most important sites on the "Luther Trail" in Eastern Germany. The pedestrian gate on the Comthurgasse is unlocked, so open it and walk in.
Martin Luther entered the monastery through this gate as a novice in 1505. Luther hadn't planned a career in the Church; he'd earned a master's degrees in the "free sciences" at Erfurt University and expected to become a lawyer.
However, while walking from his parents' house in Mansfield to Erfurt on July 2, 1505, Luther encountered a lightning storm that changed his life. He cried: "Help me, St. Anna, I want to become a monk!"
Having survived the storm, Martin Luther kept what he described as an "enforced vow" and joined the medicant order of Augustianians. (He renounced his monks' vows after his novitiate and was ordained as a priest in 1507.)
For more information about the Augustinian Monastery and its church, see our Augustinerkloster article and the other captioned pictures in this gallery.
---
---
---