Erfurt Photos
From: Erfurt, Germany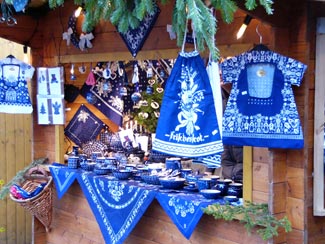 Shopping
This Blaudruck booth at the Christmas market on the Domplatz sells scarves, clothing, and other items made by a painstaking, 300-year-old "blueprint" process that uses blue dye made from woad or indigo.
If you're in Erfurt outside the Christmas season, you can visit the workshop of Blaudruckmeisterin Sigritt Weiss, which is in a house southwest of the historic center near the Dreinbrunnenpark. Telephone Frau Weiss at 0361/2252430 for an appointment, or (if you don't speak German) ask your hotel concierge or receptionist to make the call.
To reach the Blaudruckerei Sigritt Weiss by public transportation, take Bus 59 to the Wartburgstrasse stop and walk several blocks to Mühlburgweg 32.
Note: The Erfurt Tourist Office has a page about the workshop in German; click here for a Google Translation in English.
---
---
---