Erfurt Photos
From: Erfurt, Germany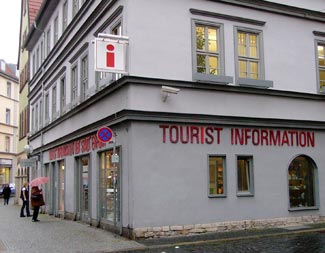 Erfurt tourist information
The Erfurt Tourist Information office is on Benediktplatz, near the western end of the Krämerbrücke. It offers free maps and brochures, has a shop with guidebooks and Erfurt souvenirs, and will help you find a hotel room, private room, or vacation apartment if you arrive in the city without a reservation.
Ask about the Erfurt Card, which includes public transportation, museum admissions, sightseeing tours, and reductions on other cultural activities and attractions.
If you're planning to use lines like "Do you come here often?" or "May I walk you home?" from your English-German phrasebook, stock up on the official Erfurt-Kondom, which the tourist office was selling a few years ago (and presumably still is) in an attractive souvenir foil packet.