Europe > Germany > Harz Mountains > Wernigerode > Hotel Gothisches Haus
Hotel Gothisches Haus
From: Wernigerode, Germany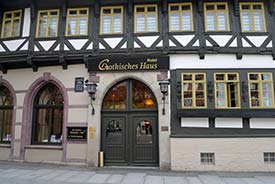 ABOVE: The Hotel Gothisches Haus is built behind an historic façade on the Marktplatz, Wernigerode's main square.
By Durant Imboden
The scenic town of Wernigerode, Germany has no shortage of accommodations: Its official Gastgeber guide lists scores of hotels, pensions, guesthouses, religious institutes, youth hostels, and private vacation rentals, but none enjoys a better location than the Hotel Gothisches Haus on the Markplatz in Wernigerode's pedestrian zone.
The Gotisches Haus is a "four-star superior" member of the Travel Charme group, which operates about a dozen hotels in Germany and Austria.
The hotel's 116 air-conditioned bedrooms, suites, and public rooms are built behind a half-timbered historic façade that faces Wernigrode's Rathaus, or Town Hall, and it offers the level of comfort that you'd expect of a hotel in its category. (It also features a number of small but creative touches, such as a basket of candies in each room and daisies in the toilets.)
In addition to well-equipped rooms--including a half-timbered honeymoon suite--the Hotel Gothisches Haus has several restaurants plus a summer terrace, a spa, fitness facilities, and a large lobby with plenty of seating and a bar. The breakfast buffet, served in "Die Stuben," is included in the hotel's standard overnight and half-board rates. Wi-Fi is free, and you'll find a complimentary Internet PC in the lobby.
Location: The Hotel Gothisches Haus is about 2 km from Wernigerode's Deutsche Bahn and HSB Harzer Schmalspurbahn railroad stations. Car parking is available for a fee, and you can rent bicycles for excursions outside the pedestrian zone.
For more information, or to book a room, visit our hotel affiliate partner's Hotel Gothisches Haus page, which includes photos, ratings, and reviews by paying guests:
---
---
---