Europe > Germany > Harz Mountains > Wernigerode > Sightseeing, museums, excursions
Wernigerode
Page 2
Continued from page 1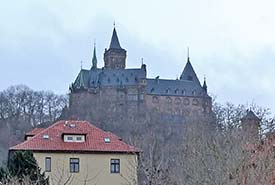 ABOVE: Wernigerode's Schloss, or Castle, was begun in the 12th Century. It is now a museum with a café in the inner courtyard. INSET BELOW: The Schiefes Haus, or "slanting house," offers a warped view of Lower Saxony architecture.
Sightseeing

Local sightseeing begins with a walk around town. Wernigerode Tourism offers guided tours, such as "1000 Steps Around the Town Hall" (10 a.m. daily, with an extra 2 p.m. tour on Saturdays), a "Hilleborch" tour through the Rathaus, and evening tours led by a costumed nightwatchman.
To learn which tours are available in English, or to buy tour tickets, visit the Tourist Information office (address on page 3).
If you prefer a free self-guided walking tour, ask the tourist office for a pocket-sized street map and the English-language Wernigerode: Beautiful Views brochure.
Museums
Wernigerode has more museums than you'd expect in a town of 34,000, such as Schloss Wernigerode (the town's Baroque castle, shown above), the Harzmuseum (in a restored half-timbered house from 1821), the Feuerwehrmuseum (firefighting equipment), Das Kleinste Haus (a house the size of a small living room), the Mühlenmuseum (a restored mill), and the Luftfahrt Museum Wernigerode (a collection of airplanes and helicopters). Another site worth visiting is the tower of the Liebfraukirche, which offers views of the town from a height of 30 meters or nearly 100 feet above street level.
For details and more listings, see Google Translate's English version of the city's "Museums and Galleries" Web page.
Excursions
You'll find places worth exploring throughout the Harz region, and the tourist office can provide suggestions for day trips. If you're a hiker, ask about marked trails in and around Wernigerode. These range in length from 3.7m km to 30 km, offer varying degrees of difficulty, and (in some cases) can be combined with excursions by train or bus.

The most popular excursion from Wernigerode is a trip by HSB narrow-gauge steam railway to the Brocken, the highest mountain in Northern Germany. Trains run year-round, and they serve hikers and mountain bikers as well as roundtrip rail passengers. When you're on the summit, you can visit the former GDR listening post, have lunch in the restaurant or museum café, or even stay overnight in the Brockenhotel.
Next page: Transport, hotels, restaurants, shops, tourist info
---
---
---
Inset photo copyright © Wernigerode-Tourismus.