Auerbachs Keller
From: Leipzig, Germany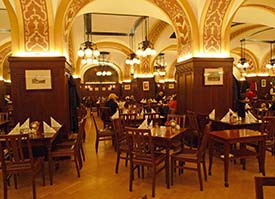 ABOVE: The "Big Cellar" from 1912-1914, with its vaulted ceiling, painted columns, and wood paneling. INSET BELOW: A sign upstairs in the Mädlerpassage, and a view of the historic Fasskeller or Cask Cellar.
By Durant Imboden

Auerbachs Keller is one of Germany's oldest taverns, dating back to 1525. The cellar bar-restaurant was founded nearly half a millennium ago as a wine bar. According to an official history, Heinrich Stromer--a physician and professor who frequently went by the name "Auerbach"--believed that "Wine is an excellent prophylactic against all kinds of afflictions, if one uses the wine in the right way."
Stromer's apothecary approach to wine-selling didn't last long: In 1528, he tore down the original structure and built a new house with a large cellar that still houses the Witch-Kitchen, the Cask Cellar, the Luther Room, and the Goethe Room of today's popular restaurant.
Goethe was a regular at Auerbachs Keller as a university student in the 1760s, and he later made the tavern a household name (at least in German households) in Faust, where he described the devil's ride on a wine barrel:
Doctor Faustus at this tide
Out of Auerbach's cellar did ride
Upon a wine-cask up sped he
As many a mother's son did see.
Today, a successor to Doctor Faustus's wine barrel is still being ridden by devilish actors during a "Cask Cellar Ceremony" performance in the Fasskeller or Cask Cellar.
Hours and venues:
Auerbachs Keller is open daily except December 24. The main restaurant, a.k.a. the Grosser Keller or "Big Cellar," was open from 11:30 a.m. to midnight the last time we checked, with a menu that emphasizes cuisine and beer from Saxony. The food is excellent, the decor has the look and feel of a German Ratskeller, and your fellow guests are likely to be a mixture of locals and tourists.

Downstairs are several historic wine bars and small dining rooms, including the Goethe Room (where Goethe hung out), the Cask Cellar (see photo at left), the 30-seat Luther Room (after the religious reformer, who drank at Auerbachs Keller when he wasn't sermonizing), and the Restaurant Old Leipzig. Hours vary, and some rooms may be booked for private events, so it's a good idea to inquire or book ahead of time.
Finally, Auerbachs Keller has an above-ground café, the Mephisto Bar, which is a convenient spot for coffee and cakes or a drink in the Mädlerpassage covered shopping arcade, where you'll find the entrance to the underground restaurants.
Back to: Leipzig, Germany